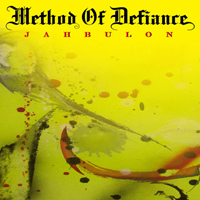 Method of Defiance will release three albums in the next months. First, the immediately accessible Jahbulon (October 5th) featuring ten songs with vocalists Dr. Israel and Hawk, keyboardist / Funkadelic icon Bernie Worrell, legendary bassist/producer Bill Laswell, and post modern/futurist drummer, Guy Licata. It is a cross-generational affair that incorporates elements of reggae, hip hop, dancehall, dub, electronica, rock, roots music and more.
Jahbulon will be followed (October 19th) by Incunabula a spontaneous improvisation of musical interaction. The album's lineup includes Bill Laswell on bass and dub efx, Bernie Worrell on keyboards, Guy Licata on drums, Dr. Israel on dub efx, turntable master DJ Krushand on electric trumpet Japan's own, sound and fury – Toshinori Kondo with a special appearance by keyboard legend Herbie Hancock.
Ending the trilogy in Jan 2011 with the remix project Dub Arcanum Arcandrum, a mix of both Jahbulon (the vocal) and Incunabula (the instrumental) by Bill Laswell, Lee "Scratch" Perry, Mad Professor, Dr. Israel, DJ Krush, and others.
Method of Defiance is an all-star cast that consists of the following members: Bill Laswell, Bernie Worrell (Parliament Funkadelic, Talking Heads, Keith Richards) , Dr. Israel (Sublime, The Mad Professor, KillahPriest), Hawk (Tricky, Tool, The Roots' Black Thought), DJ Krush (Ronny Jordan, Luna Sea & Ryuichi Sakamoto), Toshinori Kondo (Herbie Hancock, Derek Bailey, Henry Kaiser, Peter Brotzmann) and Guy Licata (Santigold, Massive Attack, Hercules & Love Affair).
Click www.mod-technologies.com/sounds/sounds.html to Stream the Song "One World"
Grammy-winning electric bassist, producer, and re-mixer Bill Laswell has worked with many of music's biggest names on the planet, including Herbie Hancock, Laurie Anderson, George Clinton, Brian Eno, Tony Williams, Mick Jagger, Williams Burroughs, Afrika Bambaataa, Motorhead, John Lydon, Bootsy Collins, Carlos Santana, Matisyahu, Anthony Braxton, Sting, Zakir Hussein, John Zorn, and hundreds more from the Americas, Africa The Caribbean, Europe, The Middle East, China, and Japan.
Laswell has built a reputation on consistently working with a diverse array of artists, and rejecting the restrictions of genre, tradition, and commerce in favor or taking risks and uniting seemingly disparate voices. It is with this ethos that he has formed the record label M.O.D. Technologies, which is set to release albums this October by the group Method of Defiance and one of Ethiopia's most famous contemporary vocalists, Gigi. In addition, the label is planning releases from Dr. Israel, Gnawa Fusion, Afa Negus, and DJ Krush in the near future.
The M.O.D. Technologies label is a modern evolution of the original Axiom label – for the purpose of destroying, discerning musical genres, trends, approved or unapproved formats, false ideas and other unnecessary borders. All releases are the direct manifestations of Bill Laswell and other key members of the Method of Defiance collective. The label is formed for the advancement of art and communication, in all forms of the creative process.
Other recordings available: The Only Way To Go Is Down, Nihon, Inamorata
Author:
World Music Central News Department
World music news from the editors at World Music Central