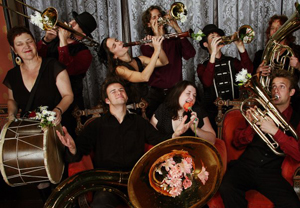 Brass Menazeri will be performing tomorrow, Friday, August 27, at world music club Ashkenaz Music & Dance Community Center.
Brass Menazeri is the Bay Area's Balkan Romani ("Gypsy") powerhouse brass band. Led by trumpeter-clarinetist Peter Jaques, the ensemble cascades through the music of Serbia, Macedonia, Greece, and the Rajasthani Roma with infectiously wild dance rhythms, soulful vocals, and hot improvisations.
Formed in 2000, and recipient of SF Weekly's 2008 Music Award for best international band, Brass Menazeri is a shining example of traditional Balkan repertoire combined with new sensibilities, innovative arrangements, and original compositions.

Jaques plays alongside trumpeters Darren Johnston and Eric Oberthaler, trombonist Larry Leight, saxophonist Sheldon Brown, baritone horn player Alex Zendzian, Sousaphone player Evan Stuart, tapan player and singer Michele Simon, singer and baritone horn player Rachel MacFarlane, and singer and snare drummer Briget Boyle. A special guest drummer fills in for Boyle tonight.
The concert celebrates the re-release of Brass Menazeri's second CD, "Vranjski San"; the band promises to perform a host of new material as well.
Doors at 7:30 pm; Balkan dance lesson with Jerry Duke at 8:00 pm; Show at 9:00 pm
$12
Ashkenaz Music & Dance Community Center
1317 San Pablo Avenue
Berkeley, CA 94702-1021
(510) 525-5054
Author:
World Music Central News Department
World music news from the editors at World Music Central