Afrobeat, the ebullient amalgam of juju, jazz, soul and socio-political commentary created by Fela Kuti back in the 1970s, has enjoyed something of a renaissance worldwide over the past decade. Bands led by Fela's sons (Femi and Seun), his drummer and right-hand-man (Tony Allen), and New York acolytes (Antibalas) have led the revival. Lately an exciting Australian act has joined the charge, with the emergence in Melbourne over the past 18 months of the country's first bona fide afrobeat ensemble.
No fewer than seven African countries are represented in The Public Opinion Afro Orchestra. Although there's strangely no members from Nigeria, where the genre had its genesis, the collective has all the attributes of an authentic afrobeat outfit — vibrant brass and percussion sections, gyrating female chorus, political commentary et al — plus some modern add-ons.

Indeed, the band's executive have even visited the music's spiritual home, The Shrine in Lagos, and paid homage to afrobeat's late high priest, Fela Kuti. "We got to play with Femi Kuti and his band," relates Zvi Belling, who co-founded the Afro Orchestra with turntablist and percussionist Ethan Hill (aka DJ Manchild) and trumpeter Tristan Ludowyk. "The strange thing is that when Seun Kuti was over here last year, we were in Lagos immersing ourselves in the music. Tony Allen was playing at The Corner here in Melbourne the day I got back, so I went straight to the concert."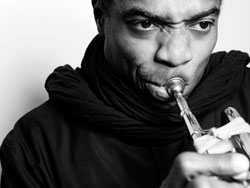 Belling is justifiably proud of his band's achievements and the fact that it gives a contemporary twist to afrobeat, blending it with hip-hop and dance elements. "I think we're the only ones who've taken that step," says the South Africa, Swaziland and Botswana-reared bass player. "The only reference to that we've found is that Femi Kuti featured some hip-hop artists on his Fight To Win album, but it wasn't the overriding musical direction." As well as adding a 21st century component to afrobeat, Belling suggests that having rappers avoids the trap of attempting imitation Fela Kuti vocals. "Some of the revival bands try that and don't really pull it off."
The POAO has garnered a strong following in Melbourne over the past 12 months. They might not have been on the national radar prior to this year, but a couple of scintillating sets at WOMADelaide and the release of a dynamic debut album, Do Anything Go Anywhere, has certainly elevated their profile.
They were among the best-received bands at the Adelaide festival. Despite driving rain, the crowd stayed and raved during their opening performance. "We were actually surprised that the Stage Manager didn't shut us down — the power cable for my bass amp was under water. It was insane," says Belling. POAO's lead guitarist, Simon Edwards, described it as his most memorable gig ever.
Staged in more congenial conditions, the band's second set was equally enthusiastically received by an even larger crowd. "We all walked off very happy on the Sunday night," Belling concedes. By the bassist's own admission the band raised the bar in Adelaide: "We surprised ourselves actually — it was definitely our coming-out ball. We'd been working on our album for the previous year. We made WOMAD our deadline to finish it and we just made it."
Although he has ambitions to take the whole band overseas — they already have an invite to play Felabration, the annual afrobeat shindig held at The Shrine in Lagos each October — Belling concedes that the logistics of touring a band of their size will not be easy. He's adamant there'll be no compromise on numbers. "Every gig we go for, we're asked if we can do it in a smaller, cheaper version, and we've never backed down. The music doesn't work if you haven't got all the parts. There's no mistake there was sixty people in Fela's band. We've scaled it back as it is. If you were to take a couple of elements out now, it wouldn't sound right."
POAO received funding from the Victoria Rocks Program to make Do Anything Go Anywhere, an expansive debut album that captures the vibrancy of the band's live performances. "We're self sufficient in terms of shows, but there was no way we could have done the big production on the album without assistance."
The band is currently searching for a residency. "We plan to start a club night in Melbourne to develop the sound a little bit and do a bit more playing. On those nights, we wanna do extended sets. That's how it's done in Lagos. The bands play for hours on end. The songs on the album are approximately 10 minutes long. When we play live, they go up to 15 minutes — we haven't quite hit 20 minutes yet. We're ready to roll, but we can't find a stage big enough and we can't find the right room or the synergy with a venue owner to make it work yet. I think it's gonna be massively successful when we get the right place."
With mainstream media in Australia tending to focus on negative aspects of African emigrants in Melbourne, Belling reasons POAO is helping to redress the balance, a fact reflected by the album title. "Do Anything Go Anywhere is about travelling through and across cultural boundaries and physical boundaries. The music talks a bit about the evils of colonial borders put down over Africa and all the trouble that's come out of them," says Belling, who toured South Africa with Miriam Makeba and Hugh Masakela's band, in the presidential campaign leading to Nelson Mandela's momentous election in 1994.
The tradition of socio-political commentary, established by Fela Kuti and carried on by his sons and followers, is something POAO takes seriously. "To my mind, it's not afrobeat if it doesn't have that element," says Belling, stressing, "it's message music and I think it loses all of its guts if it doesn't have that component." As he rightly points out: "There's certainly enough to complain about in the world at the moment."
Although he and co-founder Tristan Ludowyk compose the tunes, Belling says the rappers and singers "put their bit in" when it comes to writing the lyrics. The inner core handpicked band members. "It was the three of us who had the idea to form the band — we made the phone calls and put it together," says Belling, who settled in Australia in 1996. "I'd been playing in lots of African bands here and in Africa, so I knew personally all the Afro-Australian musical community. I was able to pick who I thought would be the right flavour for this and then outside of that, in the general music community. I put a wish-list together and no one turned us down. Initially, we were nervous about the size of the band, so we put a big team together so that when certain players weren't available that there was always someone to stand in." No one has turned a gig down so far! "It's been 'A team' all the way. We expected to have a rotating roster, but everyone's prioritised this project."
Among the more recent recruits has been Zve Belling's sister, Fem, who relocated from London, where she had been playing lead roles in the West End. Many of the other African members arrived here as refugees.
Guitarist/vocalist David Marama, who has shared Tanzanian and Malawian heritage, came to Australia via Russia, while Ghanaian Kuukua Acquah, whose daughter Lydia is also a singer-dancer in POAO, originally came for WOMADelaide with a band called Afro Moses but jumped ship and stayed. "David's a monstrous musician … back in the '70s he won the prestigious African Grand Prix, which was a competition hosted in Paris every year for the best African guitarist. He comes from a royal line and he sings and plays guitar beautifully. We've also got a Senegalese percussionist, Lamine Sonko who was born to a family of griots. He's a beautiful singer too and he plays talking drums." Sonko also does a spectacular dance routine.
Another percussionist, Nui Moon, has Moroccan heritage, while one of the rappers, Aaron Stephanus (aka 1/6), is of Namibian descent. "About the only African nationality we don't have is Nigeria," says Belling. "We tried a couple of Nigerian guests, but it didn't work out long term".
The liaison with guest South African rapper Tumi Molekane has been more fruitful. "He was a central part of the Jo'burg hip-hop scene, and fitted really well with our band," the bass player enthuses. "Tumi came out for World Expo and we managed to get him back for WOMAD and our CD launch. We are looking to do a bit of recording on some new tracks later."
Several members of the brass section, trumpeters Declan Jones and Tristan Ludowyk and baritone saxophonist Andy Williamson, also play with the popular Latin band LABJACD, as does conga whiz Luis Poblete. Veteran sax player Nick Lester, trombonist Peter Slipper, keyboardist John McCall and drummer Jules Goyma have worked with the likes of Michael Franti, Max Merritt, Ross Wilson, Joe Camilleri and James Morrison. "We resisted the temptation to bring in too many jazz elements," declares Belling. "We've tried to keep the music pure, I suppose. There's great arranging potential in the band, but we've resisted doing whacky, crazy arrangements and really kept it within the style."
Author:
Tony Hillier
Tony Hillier is based in Cairns in far north Queensland, from where he has been actively involved in all areas of the music industry in Australia for the past 25 years, primarily as a journalist, writing for national publications such as the Weekend Australian and Rhythms magazine (for which he is World Music & Folk correspondent), and performing locally, nationally and internationally with the bands Kamerunga and Snake Gully. He has also presented and produced World Music and Folk music programs for ABC Far North, Port Douglas Radio and 4CCR-FM, netting a CBAA Best Specialist Music Program Award with the last-named for a documentary on flamenco. Before coming to Australia, he was a racing journalist of some repute in the UK, where he wrote a column for the London Evening Standard under the nom-de-plume of Ajax.