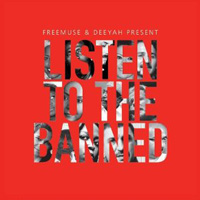 Listen to the Banned was chosen as 'Top of the World' in the Songlines (an influential UK-based world music magazine) August 2010 issue. In each issue of Songlines, selecting from hundreds of new releases, the editor chooses 10 favorite albums, and a track from each album appears on the magazine's CD covermount. The Freemuse CD was released in the United Kingdom on 8 August 2010 by Proper Note / The New Powerhouse.
The CD was co-produced by artist Deeyah and Freemuse and was well received at its launch in March 2010 by European Broadcasters. Special radio programs were presented in Switzerland, Czech Republic, Norway, Spain, Germany, Holland, Sweden and Denmark, and half a year after its initial release 'Listen to the banned' is still a favorite amongst European World Music DJ's and the World Music Charts Europe.
The CD launch in the United Kingdom is followed up by the use of social media such as Twitter, Facebook and My Space. Listen to the Banned features artists who have suffered censorship and persecution including great international artists such as Marcel Khalife and Tiken Jah Fakoly, and the imprisoned singer Lapiro de Mbanga from Cameroon
Interviewed by Jungeltelegrafen, the popular world music program of the National Broadcasting Corporation (NRK) in Norway, reggae artist Tiken Jah Fakoly strongly supported his imprisoned colleague Lapiro de Mbanga: "Lapiro did what artists must do in our societies, where people cannot speak freely. He fights for democracy and they should release him," Tiken Jah Fakoly said. He added that he found Listen to the Banned an excellent idea: "Normally people get trophies for selling most records, but this CD highlights artists, who fight for justice and that's a good idea," said the Freemuse Award Winner 2008.
Musicians imprisoned, tortured, exiled
Lapiro de Mbanga is not the only artist featured on the CD, who has experienced imprisonment. So has the Kurdish singer Ferhat Tunc and the late Uighur singer, Kurash Sultan, who was imprisoned and tortured by Chinese authorities and after his escape found a new home in Sweden and a very fruitful musical collaboration with Ale Möller.
Several of the artists featured on the CD have collaborated with Freemuse for many years, and their stories are told on freemuse.org. They include Marcel Khalife, who spent time in a court room in Beirut charged with blasphemy; Chiwoniso, who was harassed by police in Zimbabwe; and Mahsa Vahdat, the Iranian singer, who has performed at Music Freedom Day and at Freemuse related festivals several times.
Listen to the Banned includes a booklet portraying some of the world's most renowned artists facing censorship. Their stories are often painful, but they are also the stories of remarkable artists, who will not give in. Artists who believe they can make a difference.
The CD is published by Norway's most successful music label, Grappa Records, and distributed internationally.
Buy the album:
Author:
World Music Central News Department
World music news from the editors at World Music Central