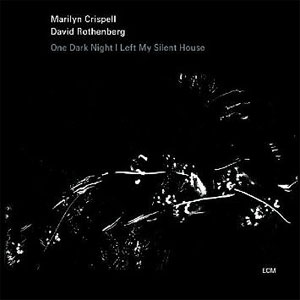 Marilyn Crispell, David Rothenberg – One Dark Night I Left My Silent House (ECM, 2010)
A longtime artist on the German label ECM, pianist Marilyn Crispell recorded several albums for the label, including "Vignettes," her first solo release for ECM which I reviewed a few years ago. I came across David Rothenberg (clarinet), first as an author with his book, "Why Birds Sing: A Journey Into the Mystery of Birdsong," probably his most popular work to date since it was made into a BBC documentary film. Rothenberg appears equally at home performing duets with birds and whales as he does humans. Both of these musicians lean heavily on jazz improvisation that can break into moments of sheer beauty, that's when they're not playing around with odd rhythms played out on a broken piano soundboard. "One Dark Night I Left My Silent House," a long time in the making (they knew each other for several years and collaborated on other music projects), feels odd with a few gorgeous moments tossed into the mix.
I've never been a fan of improvisational music of any genre, but I can see how the musician liberates themselves by following their gut instincts and in many ways I'm reminded of improvisational theatre where actors fly by the seat of their pants. On the plus side musicians live in the moment and develop acute listening skills when improvising with other players. But on the downside, improvisation has a tendency to sound like children let loose in a room full of instruments. Or even when the players are technically brilliant, it feels like I'm eavesdropping on a private moment. I guess for listeners who want something new and adventurous, who choose to live in the musical moment, jazz improvisation hits the spot. It still produces music, but music that often times, loses the usual aesthetics the average music listeners prefer (a strong melody, little dissonance, and a clear direction).
True to his inquisitive nature regarding birds, Rothenberg has included various birds in the song titles, (hawk, owl, grosbeak, woodpecker and bird in general). There are poetic descriptions of silent moments, still life and snow in the titles too which in itself proves evocative. Many of the songs remind me of John Cage's work (I enjoyed his music in my early 20s, but not currently), or of the pianists that place glass or other materials under the piano's strings.
In the song "The Way of Pure Sound" Rothenberg's clarinet recalls a foghorn. "Still Life with Woodpeckers" marries Afro-Latin jazz with Captain Beefheart. The most beautiful song on the album, "Evocation," which closes the recording, allows Crispell the space for piano flights. I especially enjoy her more melodic work, which can be found on her previous ECM recording, "Vignettes".
"One Dark Night I Left My Silent House" won't please the average jazz aficionado, but it will pique the curiosity of more adventurous music audiences or people that live on the edge and are inspired by less trampled musical terrain. And it takes courageous musicians to set loose and follow their own intuitive paths.
Patricia Herlevi hosts the healing music blog, The Whole Music Experience. She has contributed articles and reviews to World Music Central since 2003. She's also the author of two comic novels.
Buy the album:
Author:
PatriciaHerlevi
Patricia Herlevi is a former music journalist turned music researcher. She is especially interested in raising music consciousness. She is looking for an agent and publisher for her book Whole Music (Soul Food for the Mind Body Spirit). She founded and hosts the blog
The Whole Music Experience and has contributed to World Music Central since 2003.