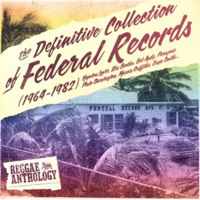 The Definitive Collection of Federal Records 1964-1982 (17 North Parade VP4163, 2010)
Ernie Smith – The Best of Ernie Smith: Original Masters (17 North Parade VP4164, 2010)
Producer Kenneth Khouri (1917-2003) was a key player in making music a true industry in Jamaica. He began recording mento and calypso artists in the 1950s before establishing Federal Records and continued to put out hits as ska evolved into rocksteady and rocksteady into reggae. The artists who did their thing with Federal are an impressive lot indeed, including such singers as Marcia Griffiths, Judy Mowatt (as part of the Gaylettes), John Holt, Ken Boothe, Bob Andy, Johnny Nash and Delroy Wilson.
Disc 1 of this double CD set is subtitled Take it Easy 1964-1972, and sure enough the more easygoing side of reggae is very much represented. That's not necessarily a bad thing, nor is the fact that covers of U.S. pop and soul hits abound. Songs like John Holt's version of "Stagger Lee" and the Gaylettes tearing joyfully into "Son of a Preacher Man" fit snugly alongside such originals as the Maytals' brief scorcher "My Daily Food," the Tartans' "Dance All Night" and tightly rendered instrumentals by the Granville Williams Orchestra and iconic guitarist Lyn Taitt.
There are more covers on the second disc (an extended version of Ken Boothe doing Bread's "Everything I Own" beats the original by a mile) but more variety as well, with Bob Andy's "Fire Burning" touching upon the Rasta side of things and a trio of tunes by the often-overlooked Pluto Shervington (including the funny "Ramgoat Liver," a ditty about the nutritional value of roadkill) alone worth the price of admission. There are 40 tracks in all and though a few are just too sugar coated, this set brims with many a fine example of how Ken Khouri brought his take on reggae to the world. I'm glad he did and you will be too.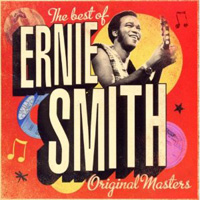 One artist who made his name with Federal Records and remains active today is Ernie Smith, who possesses low, Lou Rawls-like tones and a knack for singing reggae with the warmth of a balladeer and the air of a soul, blues or country singer when he so chooses.
The Best of Ernie Smith: Original Masters is a superb sampling of this remarkable vocalist's early work. Love songs comprise the bulk, and forays into consciousness like "Power and the Glory" show how effectively Smith could comment on the state of things. His knack for cover versions ("Sunday Morning Coming Down," "Nice Time") notwithstanding, it's on the self-penned material that Smith really finds his resonant voice. A true original.
Buy the albums:
Author:
Tom Orr
Tom Orr is a California-based writer whose talent and mental stability are of an equally questionable nature. His hobbies include ignoring trends, striking dramatic poses in front of his ever-tolerant wife and watching helplessly as his kids surpass him in all desirable traits.