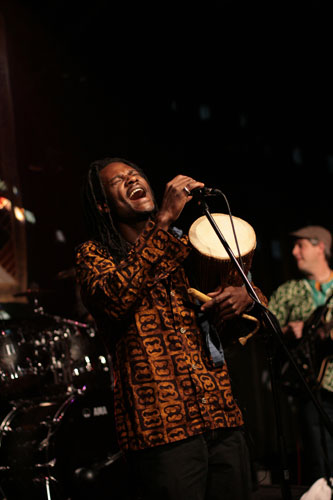 Mohammed Alidu has ways of making drums talk. Centuries-old ways passed down through dozens of generations of Bizungs, the hereditary talking drum masters of northern Ghana. These ways turn drum strokes into speech, transmit instructive proverbs and ancient histories, and spark new exuberantly danceable songs.
Alidu takes the talking drums of his past into new territory with his American band, the Bizung Family, on Land of Fire (September 16, 2010). Recorded from Madagascar to the American Rocky Mountains, the album marks Alidu's transformation of his rhythmic birthright into funky filigree Afropop, rich with timeless wisdom and musical savvy.
"The drums give us words that were said over a thousand years ago, history passed on to us," Alidu explains. "As humans, we've forgotten so many things. When I look at the world, I remember things my father taught me, the rhythms and words. The talking drum inspires my melodies, vocals, and lyrics."
Growing up in Northern Ghana, Alidu was constantly surrounded by the beat of the drums his family played, "the most incredible sound I had ever heard," he recalls. Along with his siblings, he would play in the market. By the tender age of five, Alidu was playing regularly at the local king's palace, and by his teens, he was considered one of the best drummers around. Being a Bizung is a joy and central to his identity: "I love playing the drum," Alidu smiles," because it's what I am."
Bizungs, like griots, are responsible not only for entertaining, but also for keeping alive the valuable history and parables woven into the drum's sounds. Imitating the cadence and tones of spoken language, the drummer tells tales of past wise rulers, as Alidu does in songs like "Nantoo" or "Only Love." He recounts stories with deep roots, like the tale of a lion weeping for its mate taken by a magically armed hunter on "Zomnilanisala."
To this profound inheritance, Alidu has added years of worldly wise musical travels, playing for everyone from Peter Gabriel to Queen Elizabeth. He's jammed with Afropop icons like Baaba Maal and toured with the bridge-building, trans-cultural Playing for Change Band, a project that brings musicians from different backgrounds together to demonstrate the power of music to unite and ignite love.
It was during a year's sojourn in Madagascar that Alidu first felt inspired to write his own songs, arranging talking drum rhythms and melodies for European instruments. Moved by the poverty around him and the great potential, he began blending the traditions he had grown up playing with the beats of Madagascar and the sounds he had learned while performing in London as part of a pan-African dance troupe. Songs from his Ghanaian hometown blended with Madagascar's rhythms in songs like "Chaskalanga."
"I like to create on top of traditional songs, adding verses and parts," says Alidu. "I take the groove and remake it." Alidu often does this completely spontaneously; several of the tracks on Land of Fire came about as Alidu invited some musician friends into a remote studio, sang them some lines, and then insisted they go for broke and press record. "They thought I was crazy at first," he chuckles.
It was in Colorado that Alidu finally came into his own, after meeting musical soulmate Matt Wasowski, a guitarist and school teacher with whom Alidu instantly clicked. "When we met for the first time, we started jamming," remembers Alidu with a smile. "Before the evening was over, we had written two songs together, 'Land of Fire' and 'Take a Look.' We decided to meet every weekend after that."
This musical meeting of the minds became the Bizung Family, as Alidu and Wasowski were joined by other musicians who all hail from the Boulder area but from different backgrounds. "Everyone is American, and I like it that way," Alidu laughs. "Even the Africans in the band are American. It's about the music, not who's in the band."
The Bizung Family is poised to start a new, international chapter in Alidu's hometown of Tamale, where Alidu, with help from the Playing For Change Foundation, is opening a tuition-free school to teach children drumming, music, and dance. "The band is hoping to record more in Ghana," Alidu explains. "And Matt may come, too, so that we can keep writing songs."
"African rhythms are complicated, but I learned so much from them. The vibe in our music is African, but people from all over can still feel and understand the groove," Alidu reflects. "I don't just make African music; I want everybody to feel their part in it."
Buy the album:
Author:
World Music Central News Department
World music news from the editors at World Music Central