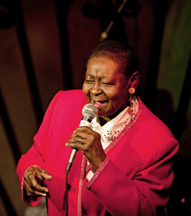 Another tough WOMAD call. Rafiki Jazz, the Sheffield based collective were opening proceedings on the Radio 3 stage in perhaps their most prestigious gig so far, yet scheduled for the same time, on the Siam Stage, was one of the greatest, groundbreaking Calypsonian monarchs. Thinking that the only other opportunity to catch Calypso Rose may involve boarding a plane to the Caribbean, I grabbed the moment.
Hoping no-one from Sheffield spotted me, I ducked into the Siam Tent to find a vantage point, for what turned out to be one of my highlights of the festival. An upbeat humourous set full of jaw droppingly naughty innuendos, both politically and sexually. Music to evoke the feel of a Caribbean carnival and the sparkling personality of Calypso Rose.
"You married darling?", said Linda McCartha Sandy-Lewis a.k.a. Calypso Rose, to all the boys, as she walked along the track from her dressing towards the stage. Age was no barrier for our septuagenarian, whose cheeky grin was infectious. She was getting in the mood to flex her mix of social commentary and wit in front of the WOMAD audience
With the opening number behind her she greeted her audience, "Hello there ! Now I am going to take you to the land of my great grandmother. She was from Guinea, Africa and captured as a slave and taken to Tobago". It was the familiar track from her recent album with its gentle lilting sway, piano breaks and soulful mood. A few bars in and Rose sings, "Sitting on another man's land, toiling on another man's land …..I want to, I'm begging Jah, I want to go but the land too far. Over yonder, where there's many moons yonder, I want to go Back to Africa."
The impassioned delivery and the words were made all the more poignant after Calypso Rose's shared with us her grandmother's life long desire to return to her birthplace. Every night she would face the ocean and pray to her ancestors to take her home and at the age of ninety nine she died and was buried in Montgomery having never seen Africa again.. "I give the song for my great grandmother", states Calypso Rose after recounting her grandmother's roots.
Before we had time to dwell on the emotion and assimilate all the information, there's a punctuating half laugh, half parrot cry "Ah ha – Hit me !" and we're into another story. This time the inspiration comes from overhearing two young women arguing over a man, they later ask Rose's opinion. Listen "A man is a man even if he has a face like a frying pan" – which leads into another track from the recent album, A Man is Man. "some will look for the Chinee, some will look for the policeman, some men in jail they turn female.." ooh er missus, as my jaw started to drop I wondered where this might be going. Interrupted the flow of her calypso she turns to focus on a member of the audience, "Am I right Mr Baldy" and with a rotation and thrust of her hips, she reaffirms the songs title and that and any man will give me satisfaction, by the end of her song, the audience were fully engaged.
Taking the opportunity for more banter Rose tells the audience, " See he laugh at me crazy", her attention once more focused on Mr Baldy, "His bangle is small small" and gesturing with her hand between her legs she waves her hand from side to side…naughty naughty woman.
Moving quickly on, the audience, previously half stunned and half creased up with laughter are now in full skanking mode, bouncing up and down to the ska rhythms of Israel by Bus. Written after witnessing the television coverage of the Ethiopian Jews landing in Israel. It offers up a mixture of Old Testament prophesy, Rastafarian and Zionist philosophy. " I am a composer of over 800 calypso's in my life, the first female to win two world match awards, I have met the Queen of England, I am your humble servant", says Rose.
Continuing with the England theme, "we have a lot of things in the Caribbean, that England has been acquiring for years ( a cheer of solidarity from the audience ) sweet sugar cane that makes the rum but I will make sure it never runs out whilst I am still alive – Hit Me!" The band starts up and Rose delivers another calypso full of double entendres, humour and a touch of self deprecation, "Put your hands around me waist, you can get the taste, I have bags of sugar dumpling".. "A-ha" , cries Rose, " I wish I had some rum and cola now I could be jiggy jiggy." As if on cue a young fan enters stage right. Rose greets him, "Hello me darling you could be me grandson, oh look at him waist", the band are quick to wind up the situation with some jazz freestylings allowing Rose to indulge in a few wind and grinds before moving into her reworking of the Calypso classic Rum and Coca Cola, working for the Yankee dollar.….
Just as you might be thinking that no man or indeed bottle of rum is safe within five feet of our Queen in her court of calypso, Rose delivers a curve ball. She announces her birth date, 27th April 1940 to huge cheers from the audience that just get louder as she also lets us know, she has twice survived cancer. "The good Lord has kept me, I stand before you, he has given me the music I share with you, Hit Me!" and Rose is off with Voodoo Lay Loo, with its street march percussion style, the audience are beginning to feel the energy of a Trinidadian / Tobagonian carnival.
Most of her set has come from her eponymously titled album, 'Calypso Rose' released at the end of 2008 and as sharp as ever Rose advises us to buy two copies. " You see the Jamaican and the African he has two wives one for the inside and one for the outside you can buy one for the inside and one for the outside", the audience laughs, "my word I want to go write calypso now" – "Fire Fire". There's now a real celebration on stage, Calpyso Rose offers up her famous Fire In Meh Wire, with its Soca leanings the crowd are really grooving now, pausing a little way through the number, Rose, surveys the crowd before turning around to announce her band members who hail from all corners of the world, Guadeloupe, Trinidad, Ireland and Nigeria. She then introduces herself Linda McCartha Sandy-Lewis better know as Calypso Rose. Huge roars of applause from the audience that continue as she recounts winning her numerous Calypso crowns, including the Trinidad Road March four times, in 1968 for Fire In Meh Wire, 1975, 1977 with her song Tempo and lastly in 1978 for I Can Take this Feeling.
It is with this song that she plays out, leaving the audience in awe, thoroughly entertained if a little shocked at times and wondering why the last hour seemed to pass all too quickly….more ….more…..
Author:
Jill Turner
Jill Turner contributes to Songlines Magazine, World Music Central and is on the fRoots critics albums of the year panel. Her radio show GondwanaSound broadcasts on Sheffield Live! 93.2FM to the fourth largest city in the UK and is carried on both Radio Groovalizacion and African Internet Radio.