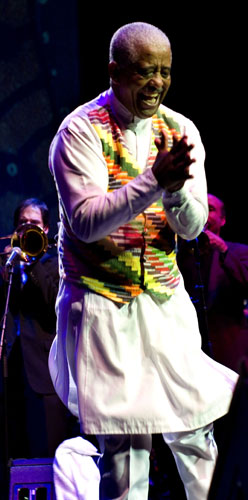 Ravaged by years of civil war, an oppressive military regime and on-going conflict with neighbouring Eritrea, Ethiopia's economy remains poverty-stricken, despite recent increases in GDP. In musical terms, however, it is rich beyond measure … as Australia discovered at WOMADelaide 2010. Thanks to an inspired piece of programming, one of Ethiopia's national treasures, the charismatic veteran singer Mahmoud Ahmed, performed at WOMAD's southern hemisphere flagship festival in Adelaide, along with the cream of the country's up-and-coming talent in the band Dub Colossus.
In many ways, the landlocked state once known as Abyssinia is the sleeping giant of African music — the continent's eastern counterpart to the West African powerhouses of Mali and Senegal. Ethiopia's music reflects its amazingly diverse mix of ethnicities and languages, its long history and its status as one of only two African countries not to have been colonized by European powers. Even though it employs a unique modal system (pentatonic with characteristically long intervals between some notes), Ethiopian music is totally accessible to western audiences.
Through the filter of their own traditions, Ethiopian musicians of the '60s and '70s developed an idiosyncratic brand of pop — a mixture of military brass band music, jazz, funk and soul. The music's comparative lack of exposure has led to the suggestion that it's the missing link in the pan-African melting pot.
Few non-natives know more about Ethiopian music or indeed appreciate the country's musicians more than Frenchman Francis Falceto, who's bringing a band to Adelaide led by the legendary singer Mahmoud Ahmed . The Paris-based journalist and music producer is responsible for the critically acclaimed Ethiopiques compilation series that has done more than anything else to put the music of Africa's second most populous state on the world map, at least in Europe. Ethiopiques, which features primarily singers and musicians from the golden era of Ethiopian music, was launched on the Buda Musique label in 1998. In December 2009, Falceto issued Volumes 24 & 25 of the series and he's preparing another dozen more for release over the next year or two.
When I talked to Falceto in mid-December, he had only recently returned from a trip to Ethiopia. He returned in January, and was back there again after WOMADelaide to supervise a festival he helps stage in the capital, Addis Ababa.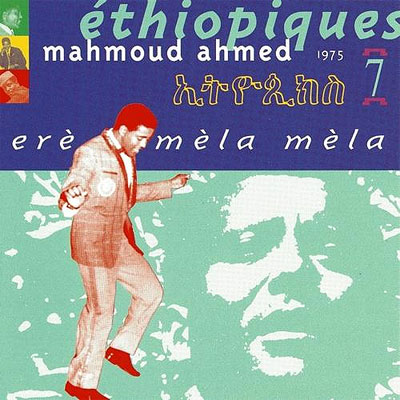 he voluble Frenchman remembers with some clarity when his affair with Ethiopian music began — and, yes, it was love at first sight. "It was April, 1984. I was at a party with a promoter friend of mine. Another friend put on an LP of Mahmoud Ahmed , which later became Ethiopiques Volume 7. We were amazed. We had no idea about this music, and we were supposed to know a bit about music in general. We sent copies of this LP to some journalist friends and music reviewers and by the following day all had replied, asking: 'What's that, where did you get it from?', so we understood it was good music, everybody agreed about this, though it was unknown music."
A year later, Falceto made the first of many trips to Addis Ababa. "I wanted to invite Mahmoudto come and perform in Europe. I was totally ignorant about Ethiopia — about its history, its music, its culture, its language, and I went in the middle of a military dictatorship. It was hell to do anything, so it failed." He visited Ethiopia thrice more over the next few years, without any success. In the meantime, though, he bought as many vinyl albums and cassettes as he could find in the shops of Addis Ababa. "I started to understand a little about this music. It was a bit like a puzzle for me to understand, where this music had come from, what was its influences, how it had developed. It took three or four years to study seriously."
When he started to release compilations of the music he had collected, Falceto was stunned by the size and the passion of the response from world music buffs. "It was the greatest surprise to me. I didn't intend to publish as many CDs as I have. I initially planned to release ten or twelve. I never thought we would get such feedback from the general audience worldwide. I never thought it would get to this point … seriously. I've been working in music for more than thirty years now. I could never have anticipated the success of Ethiopiques, nor the feedback from musicians from all over the world."
Now the live show is eliciting a similarly positive reaction. Mahmoud Ahmed's UK debut at WOMAD's flagship festival five years ago is still talked about in English world music circles. Not that the crowd's response came as any surprise to Francis Falceto. "For me, Mahmoud's voice is one of the most beautiful in all of Africa, together with Salif Keita. He's very classical in his singing and playing. On stage, he's an incredible entertainer, even though he's over sixty now and he doesn't jump as high as he used to. He feels alive when he's on stage. I've never seen a bad concert of Mahmoud's in my life. He wants people to sing and dance with him. He wants to have audiences jumping and dancing, happy. I have never seen an artist or entertainer so professional in the sense that he is there to give. He's enjoying travelling the world and playing big festivals too much. His life has changed. Last summer he got a BBC Award. It's an achievement he never dreamed about. He can't believe so many articles are written about him."
Although Ahmed has been based in the United States of America  for the past two years, he has lived in Ethiopia for the vast majority of his life. "There is an important Ethiopian diaspora in America, so he plays extensively, essentially for them," says Falceto. "When he first toured there in '84, it was the first time a modern Ethiopian band was exposed to a foreign country. He has been a superstar in Ethiopia since the beginning of the 'sixties. Nowadays people, even in the deepest countryside, have a transistor radio, so every Ethiopian knows about Mahmoud. The leading god of Ethiopian music used to be Tlahoun Gessesse, but he passed away last year, so Mahmoud's really the last survivor of a golden age. He and Gessesse played together in the Imperial Bodyguard Band [a renowned nursery for Ethiopian musicians in the 'sixties]."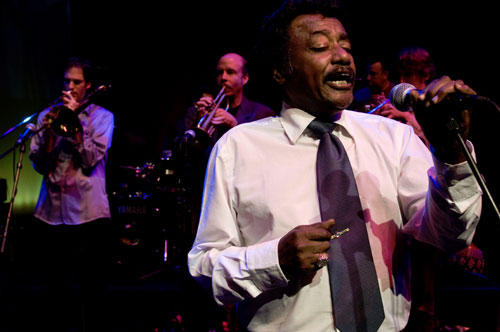 While the 9-piece band that backs Mahmoud Ahmed in live performance these days is French, Falceto insists it is "the best Ethiopian band today". Qualifying that paradoxical statement, he says: "The band has played in Addis Ababa and the Ethiopians went crazy about them. They have been performing together for a number of years — they're incredible. This band used to send me demos. One day they had an opportunity to play a big summer festival in France and they asked whether Mahmoud would like to join them, and Mahmoud said yes. It was an amazing experience. Many musicians from all over the world, from east to west, from Japan to Switzerland, are playing in their own style Ethiopian music covers … I never anticipated such a phenomenon. If you look at Salif Keita, Youssou N'Dour and many of the other African stars they play very often with foreigners."
When Western interest in African music ignited in the '80s, making global stars of singers like Keita and N'Dour, Ethiopia's borders were sealed as the country suffered under a dictatorship. The vibrant Ethiopian music scene of the '60s and '70s, the so-called golden age, had vanished. That's one of the reasons why the music of Ethiopia has only recently caught the world's attention. Falceto offers another explanation. "All of the colonizing countries acted as a kind of loudspeaker, in London, Paris and Lisbon for African music, but Ethiopia had never been colonized, which is very important even when it comes to understanding the music of this country. It is unique because these people were closed to the world for so long. Ethiopia has 3000 years of existence. They were orthodox Christians before France, before the British."
Until recent years, Ethiopia had greater exposure to American rhythm & blues and rock 'n' roll than pan-African music. "I remember during my first trips in the late '80s, you would never hear African music on Ethiopian radio," reports Falceto. "Only recently have they had access to this music. They were so deprived of everything during the 18 years of the revolutionary regime that they listen to everything they can, good or bad. Before the dictatorship, they were exposed to music from abroad and it was very influential to Ethiopian musicians. There was a U.S. military base in Asmara, which is nowadays the capital of Eritrea, and the base had its own radio station."
Eminent British pop and rock musicians, such as Elvis Costello, Brian Eno and Robert Plant, have praised the Ethiopiques project. Costello has described Mahmoud Ahmed and his contemporaries as "the Ethiopian R&B counterparts to James Brown, Elvis Presley and Jackie Wilson" and "bluesmen with the power and wildness of Bukka White or Son House".
"I like very much the fact that they are part of the fan club," says Francis Falceto. "When you consider that people like them and Americans such as Patti Smith, Marc Ribot, Tom Waits and the Kronos Quartet are also part of that, it's very meaningful. What I like is that it's not middle-of-the-road pop singers. All these artists are something special, more creative. I don't really come from a world music background. I'm just a music lover who's into many different things, so I appreciate that people like these are part of the fan club."
Another aspect of Ethiopian music, a more contemporary take, was exhibited at WOMADelaide 2010. Even so, that's not to say that Dub Colossus don't doff their collective cap to Mahmoud Ahmed, Ethiopiques and Francis Falceto.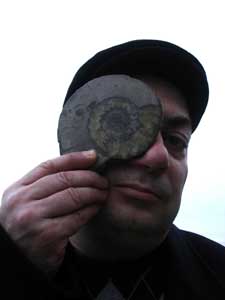 Nick Page, the British producer and musician who directs the band, freely acknowledges the debt that he owes to all of the above. "I have nothing but admiration for what Francis did with the Ethiopiques series," says the founder member of some of the UK's most popular cross-cultural fusion bands, including Transglobal Underground, Temple of Sound and Fun-Da-Mental. "I wasn't trying to compete with that. I was actually hoping to put the Dub Colossus album out with him, and while that didn't happen we're still good friends. I think he's probably brought Ethiopia to the world's attention more than we have."
Page, who plays guitar in the band, points out that one of the Ethiopian musicians in Dub Colossus, saxophonist Feleke Hailu, has a strong connection with Mahmoud Ahmed — "Feleke's father was Mahmoud's arranger and trumpeter for most of his life." Francis Falceto confirms that Hailu's father was an important arranger in the Imperial Bodyguard Band and adds that most of the musicians in Dub Colossus> have performed with Mahmoud. "Between both bands, the audience at WOMADelaide got a very good impression of Ethiopian music. From Mahmoud they got the band of the swinging 'sixties, the golden age of Ethiopian music, and through Dub Colossus they had a blend of what Ethiopian music may become. I think electronica may be the future of Ethiopian music and Nick is doing something very important, not only to promote his own music but also Ethiopian music too. I want to make a compilation soon of Ethiopian music of today, and he has agreed already to give me one track."
Five of the dozen players who were on stage with Dub Colossus in Adelaide were Ethiopians. Sintayehu 'Mimi' Zenebe is a great singer, who's known as the Edith Piaf of Ethiopian song. Tsedenia Gebremarkos is a well-known and respected performer who won the best female singer in East Africa award in 2004. They were joined by Teremage Woretaw who, with his plaintive voice and one-string fiddle [messenqo], is a youthful carrier of the ancient Azmari tradition. Feleke Hailu's a brilliant saxophonist. Samuel Yirga is an extraordinary pianist, a young prodigy of classical and ethiojazz. The bass player was Onny from Asian Dub Foundation, or 'Dr Bass' as he's known, and the drummer was Nick Van Gelder, who once played with Jamiroquai.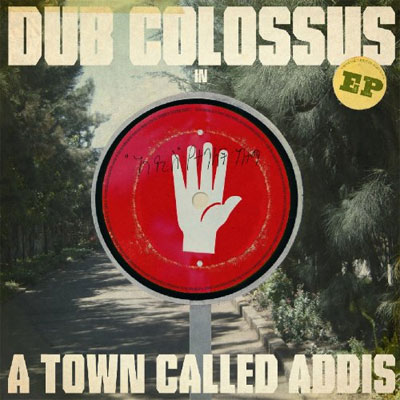 On Dub Colossus's well-received debut album, In a Town Called Addis, which was recorded in a makeshift studio in downtown Addis Ababa, the loquacious Page, who started his playing career in UK reggae band Steel Pulse, applied dub and electronica to Ethiojazz, Azmari and other traditional styles of Ethiopian music. "It wasn't a premeditated, bolted together world music project," he stresses. "It evolved through happy accidents, and that's the best way really. I'd like to say that I'm really intelligent and smart and pre-planned it, but I'm afraid that's just not true because when you meet people and you go out and work with them all your preconceptions and motives, good though they felt at the time, go out of the window.
You have to actually start with what's there and what's working. You can't impose the form you want on the people you work with, unless you're a genius. You've got to let what they have to offer show itself to you and to them and then cut and paste in the right context. That's a very different approach from what some people take. I don't believe in bolting stuff together just for the sake of it; I never have done. I like things that work that no one had ever assumed would work. I like things to happen because they need to happen and want to happen. You can only push it so far."
Despite receiving plaudits from all over the place, Ethiopian music is still relatively under-exposed on the world scene. Nick Page says there a lot of reasons why it hasn't had the focus it merits. "Don't forget, Ethiopian music received a big kicking when the military regime came in and Ethiopian society is really still coming back to a state of normality. A lot of the musicians left and the music scene was destroyed from 1974. By 1976 it was pretty much gone and it carried on like that 'til about 1991. So, the development was stunted. It had this really vibrant, eclectic world-aware scene. It was borrowing and assimilating everything, and then it shut down for 18 years and a lot of people left. There aren't many modern Ethiopian artists you could name that have cross appeal. I mean there's Gigi [Ejigayehu Shibabaw] and there's Aster Aweke, and there's Teddy Afro. Nobody knows Teddy Afro here in the UK. His real name's Tewodros Kassahun. He's a big star in Ethiopia. He just got imprisoned for something political. Mahmoud Ahmed is the ambassador really at this point for Ethiopian music, along with Aster Aweke."
Author:
Tony Hillier
Tony Hillier is an Australia-based freelance music writer, broadcaster, musician, MC and band leader. He writes album and concert reviews and feature articles for The Australian (the country's only bona fide national newspaper) and Rhythms (Australia's only dedicated national roots music magazine) and prepares/presents weekly programs for the national broadcaster (ABC) and community radio. He is also a member of the Transglobal World Music Chart (TWMC) panel.