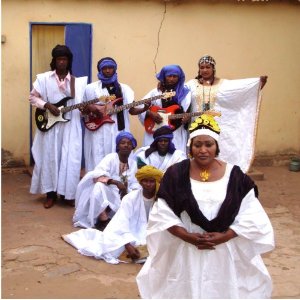 Carlou D – Muzikr (World Village, 2010)
Khaira Arby – Timbuktu Tarab (Clermont Music, 2010)
It has been a long while since I've listened to Senegalese music and I'll admit the bulk of West African music I've reviewed in the past 3 years has hailed from Mali. So when I popped Carlou D's World Village debut, Muzikr into the player I was delighted to hear the kora shimmering around acoustic guitar and soaring vocals. I don't know if Carlou is a descendent of the griot class, but he certainly plays the role of a griot (storyteller, messenger, educator…) on his recording. He wears his sentiments on his sleeve, not to mention his religious convictions. He's the kind of guy you'd like to know musically and otherwise, coming across as a Bob Marley for a younger generation.
I wasn't sure at first what I was going to think of the recording. I thought it would be filled with Senegalese pop and hip-hop music, but it's not. Strong melodies supported by polyrhythms and stunning guitar and signature vocals dominate. The recording feels gentle in so many ways, even when Carlou takes on heavier topics such as the historical slave trade of his homeland or the plight of young Senegalese immigrating to Europe to find streets paved in gold, but instead finding despair. The opener Sam Fall supplies listeners with passionate vocals supported by the kora's cascading notes and acoustic guitar. In contrast, Fi Ma Dar sounds more bluesy, and Nanioul more upbeat.
'Gorèe' features Senegalese superstar Youssou N'Dour. 'Sen Regal' sounds like a cross between reggae and hip-hop done Senegalese-style. My favorite song on the album, 'Namenala' (for his mother who died when Carlou was 20 years old), feels melancholic, but in a deep soulful way. The bulk of the album includes prayer songs that honor Cheikh Ibra Fall (a spiritual guide of the Muslim faith that lived 100 years ago). Carlou's songs capture both the sacred and pop sensibility. With virtuosic kora and guitar throughout the CD and meaningful lyrical content, Carlou D stands at the precipice of international stardom.
Hailing from the Timbuktu region of Mali, and the cousin of the late Ali Farka Toure, Khaira Arby also sings praises to Muslim spiritual guides, but over a backdrop of bluesy distorted guitars and the traditional Malian banjo. On Timbuktu Tarab, her vocals sound more like powerhouse shouts, than singing and when combined with the cacophony of guitars I actually find the music too intense for my tastes. But she'll hit the spot for fans of Tinariwen, Ali Farka Toure and even Oumou Sangare, who she shares some socio-politics in common.
While this recording is not my cup of tea, I still admire Arby for her gutsiness leading a band of young Malian guitarists, singing about desert warriors and taking on the role of a woman praise singer. I couldn't exactly call her the Malian equivalent of Aretha Franklin, since Franklin only demanded respect and didn't belt out her anger and frustration in the same way as Arby. Nor could I compare her to Sangare who has more of a pop sensibility and radiates joy even when she sings about difficult topics such as female circumcision or the traditional Malian men marrying several wives. However, Arby doesn't flinch from those topics either, but her music possesses angst. I remind myself that some of the songs on the recording are praise songs because my version of praise songs wouldn't possess an edge. Although she softens up a bit on the track Tidjani Ascofare with soulful vocals, interlocking guitars and kit drum.
Arby definitely comes off as a spiritual-musical warrior which isn't a bad thing. Every culture needs women who aren't afraid to stand up for what they believe, and every culture needs teachers to keep morals in check. Arby is a mother and a woman living in a country dominated by traditional men. She has many mountains to move with her music and no doubt this powerhouse vocalist will eventually lead a transformation of Malian society.
Patricia Herlevi hosts the healing music blog The Whole Music Experience and teaches healing music workshops and music appreciation courses in western Washington. She has contributed to WMC since 2003. She also writes comic novels.
Buy Muzikr
Author:
PatriciaHerlevi
Patricia Herlevi is a former music journalist turned music researcher. She is especially interested in raising music consciousness. She is looking for an agent and publisher for her book Whole Music (Soul Food for the Mind Body Spirit). She founded and hosts the blog
The Whole Music Experience and has contributed to World Music Central since 2003.