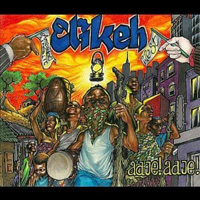 Elikeh
Adje!Adje! (Azalea City Recordings, 2010)
Living in Washington D.C., the political epicenter of the United States, can give you a feel for how lousy things are. For an African immigrant musician from the small country of Togo (look hard on the map, you'll see it), our nation's capital is an ideal place from which to express discontentment through music. Still, there's no reason the music can't be lively and danceable as well as plainspoken. Massama Dogo- singer, guitarist and composer -understands as much.
Taking a cue from the Fela Kuti-inspired legions of musical protestors as well as the underexposed musical traditions of his native land, he and his band Elikeh tear into Adje!Adje!, an album that grooves the way West African music did when it was influenced heavily by Western rock. But forget any retro pretensions. The lyrics emerging from the ripple of guitars, horns, bass, drums and percussion (keyboards are absent but not missed) sing ever-relevant songs of government corruption, political folly, the need for unity and the like.
It's not all business, though. "Get Ready" and "Jondji" are invitations to come and dance, and even the serious intents of "Djale" and "Madjo" are cooled by unexpected acoustic riffs. While I particularly like "Let's March," a version of a song originally by Nigeria's O.J. Ekemode, the whole disc packs a thinking man's punch.< Dogo's voice and guitar lead with authority and the assist he gets from players like Michael Shereikis (from D.C. Afrobeat band Chopteeth) makes for a whole lot of militant fun. Buy the album:
Author:
Tom Orr
Tom Orr is a California-based writer whose talent and mental stability are of an equally questionable nature. His hobbies include ignoring trends, striking dramatic poses in front of his ever-tolerant wife and watching helplessly as his kids surpass him in all desirable traits.