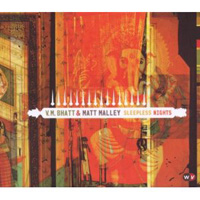 V.M. Bhatt & Matt Malley
Sleepless Nights (World Village 468097, 2010)
Indian master musician V.M Bhatt was in on one of Ry Cooder's early excursions into world music, collaborating with Cooder on 1993's A Meeting by the River. Bhatt's instrument of choice was one of his own invention: a 20-stringed laptop guitar dubbed the Mohan Veena that's equal parts Indian and Western. He continues to coax a marvelous variety of sounds out of his unique axe, and his pairing on Sleepless Nights with former Counting Crows bassist Matt Malley goes from the looseness of an impromptu jam session (the great majority of the album was improvised) to the kind of complexities for which Indian classical music is noted.
Bhatt and Malley are joined by Subhen Chatterjee on percussion, and while the importance of Malley and Chatterjee's roles is not as immediately apparent as Bhatt's, all three gents soon find their individual and collective space. The opening "Rainbow in My Heart" sounds like a jaunty folk/blues tune, with Bhatt slipping and sliding above Mally's subtly loping bass and Chatterjee holding down an easy swing on drum set.
Things get more Indian-sounding on the lengthy title track (half the six pieces here top the ten-minute mark) as Chatterjee switches to tabla and Malley matches Bhatt's angular finesse with keyboards as well as bass. "The Scalding Rain" would be an ideal soundtrack for a chase scene in a Bollywood cowboy movie (I mean that as a compliment) and "Languid With Longing" really shows the trio's expertise, including a couple of sections where Bhatt steps back entirely while Malley and Chatterjee pave an unhurried path for his return. True, there are a few meandering moments on the disc, but when things really kick in, Sleepless Nights sounds great whether it's dark or light outside.
Buy the album:
Author:
Tom Orr
Tom Orr is a California-based writer whose talent and mental stability are of an equally questionable nature. His hobbies include ignoring trends, striking dramatic poses in front of his ever-tolerant wife and watching helplessly as his kids surpass him in all desirable traits.