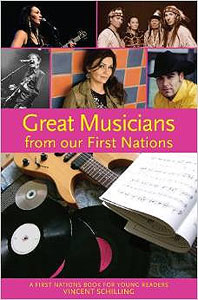 Great Musicians from our First Nations, written by Vincent Schilling, is the latest book in the First Nations Series for Young Readers from Second Story Press. It explores the lives of ten talented Native musicians of all ages from around Canada and the US. This collection of biographies illustrates to young readers, aged 9-13, what dreams can be reached with dedication and courage.
Read the inspiring story of Mary Youngblood, the first woman to professionally record the Native American flute. Adopted into a white community as a young child, Mary experienced feelings of isolation and exclusion. She found music to be healing during those rough times and pursued the flute as a creative outlet. Today, she is a two-time Grammy Award winner.
Other artists included in Great Musicians from our First Nations are Michael Bucher, who at age 52 uses his music for both entertainment and political activism by bringing awareness of Native American sacred sites and burial grounds and earning him "Best Political Song" at the 2008 First Annual Native-E Music Awards. And Leela Gilday, who chose to give Native women a voice through her songs of hope and empowerment —a voice that was missing in the community in which she grew up.
Other inspirational artists featured in this book include Albertan Shane Yellowbird, who overcame a stuttering problem to achieve chart-topping hits with his country music on Canadian radio. And Crystal Shawanda, who was exposed to the sights and sounds of Nashville, Tennessee from an early age and later returned to pursue her dream of being a famous country music singer.
All the musicians in this collection from Second Story Press have endured prejudice and the loneliness of isolation, but all of them have pursued their music. Today, they share their stories to bring a voice to Native communities and inspire young people to follow their dreams.
Author Vincent Schilling has written other books in the First Nations Series: Native Musicians in the Groove, Native Men of Courage, and Native Athletes in Action. He is an enrolled member of the St. Regis Mohawk tribe and lives in Virginia Beach, USA.
Author:
World Music Central News Department
World music news from the editors at World Music Central