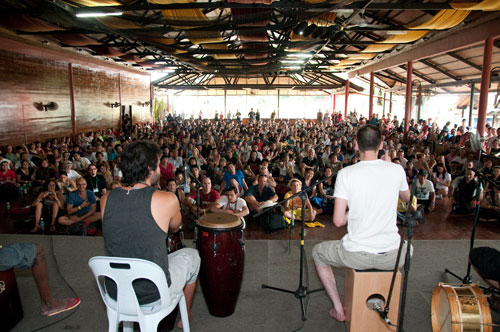 During the heat of the day, workshops took place at the Rainforest World Music Festival 2010 every afternoon in three locations at Sarawak Cultural Village, the Dewan Lagenda ballroom, the Iban Long House and joy of joys the fully air-conditioned theatre complete with the most comfortable leather seats.
A choice of nine carefully programmed workshops each day created the best an opportunity to get close up and personal with the musicians and their instruments. There were plenty of opportunities to witness the magic of unrehearsed jam sessions, where even the musicians, were thrilled by the unknown. Perhaps the best, appropriately entitled Electricity, brought Rasid and Sadiq Khan, Musafir Gypsies of Rajasthan, together with Novalima's percussion section and the guitar and trumpet from Watussi who added a summery jazz feel. With plenty of video cameras running it will be worth tracking down on You Tube.
The workshop exchanges and the fact that the festival invites the artists to stay for the full three day duration, provided a catalyst for future collaborative projects, watch out for a Debu and Leila Negrau combo. As Debu's Daood said after watching her performance, " for sure, we're going to work with Leila, her performance was just amazing note perfect, we're really excited".
Author:
Jill Turner
Jill Turner contributes to Songlines Magazine, World Music Central and is on the fRoots critics albums of the year panel. Her radio show GondwanaSound broadcasts on Sheffield Live! 93.2FM to the fourth largest city in the UK and is carried on both Radio Groovalizacion and African Internet Radio.