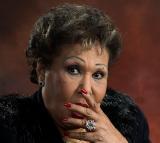 Olga Guillot, the last female giant of the Cuban bolero, passed on July 12th, 2010 in Miami, Florida. She was 87. She was known as the "Queen of the Bolero."
Olga was born on October 9th, 1922 in Santiago de Cuba. She started singing at 14 years of age, when her family relocated to Havana.  Olga had a very theatrical persona in her singing style and was a very stylistic singer of her time. Very popular during the 1950's, Olga left Cuba for Mexico City in 1962 to reside there and later bought a second home in Miami Beach, Florida.
Olga was a Grammy Award winner and many of her albums turned gold then platinum. Olga sang with many artists and also made many television debuts, at times playing herself in the role.
The bolero singer performed with Sarah Vaughn, Edith Piaf and Nat King Cole. Olga was crushed at the death of her Cuban colleague Celia Cruz, and was interviewed worldwide about the loss of her great singing colleague.
Olga had a singing career spanning over 60 years and was the first Latin artist to perform in Carnegie Hall.
Author:
Les Moncada
Les Moncada is a Latin Jazz orchestra leader and conguero for over 40 years. He was born in Oakland, California and currently resides in Sacramento, California.
Les Moncada is a student of conga and batá master Francisco Aguabella, a friend of the late promoter Bill Graham, vibraphonist Cal Tjader, Latin Jazz band leader Pete Escovedo, conguero Mongo Santamaria and many, many more.
He has been writing for many years for World Music Central.
Les has several Facebook sites: Timbales and Congas Bongo Bata & bells; Conguero, Professional Conguero & their Instrument; Bongocero, Professional Bongocero their Instrument; Alambres Dulces, Tres, Cuatro & Laud