Førde Folk Music Festival uses various venues throughout the city of Førde and in nearby locations. The festival programming usually begins with conferences by international experts in various fields of music.
On Friday, July 9th, there were conferences by Tom Remlov, manager of the Norwegian National Opera and Ballet, Målfrid Snørteland, director of Jærmuseet; Hilde Bjørkum, director of Forde Folk Music Festival, and Gerald Seligman, consultant, producer, and former director of WOMEX.
"I attended the conferences by Tom Remlov and Gerald Seligman," said World Music Central's Angel Romero. "Remlov's conference was in impeccable English and he provided fascinating details about the creation of Norway's opera house and its landmark building as well as the goal to attract and embrace a broad audience.
Gerald Seligman's conference, titled 'Alive and Well Outside the Mainstream: Celebrating Diversity' described the current state of multicultural music and some of the possible directions and outcomes in the future."
Seligman talked about a golden era in access to world music. "We are actually really living a golden age in terms of access of music and other cultures and other art form," said Gerald Seligman. "Foremost is the dedication of a generation of professionals who have spent the past twenty years, thirty years, forty years.. working hard to give this exposure to culture. The professionals I'm talking about are concert promoters, managers, independent labels, festivals, and individuals who made a great personal effort in moving this music forward."
A second reason is government support. "There's always some sponsorship," said Seligman. "Local, regional, national and then pan national, like the European Commission, have become very progressive in their understanding about multicultural arts."
The 3rd factor mentioned by Gerald Seligman is the rise of creative industries. This is the "notion that supporting the arts is not charity, it's good economics..Through statistical analysis, creative cities, meaning cities with the largest number of this small very dynamic groups of people who are creative: computer programming, scientists, these tend to be the healthiest economies."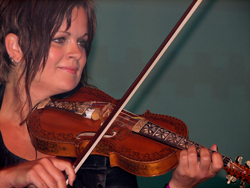 Performances begin at around 10 a.m. and pick up at noon. One of the high spots of the day was the concert by hardander fiddler innovator Annbjørg Lien and organist Bjørn Ole Rasch. Although the fiddle and pump organ duo seemed like an unusual combination, the result was striking and mesmerizing and attracted the attention of many of the international delegates.
Annbjørg Lien used hardanger fiddle and nyckelharpa, while Bjørn Ole Rasch created captivating atmospheres, percussive elements and melodies. Although Annbjørg Lien is known primarily as a fiddler, she performed a beautiful song, that demonstrated her admirable vocal ability. Most of the material was from her most recent album titled "Come Home."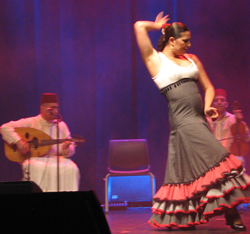 Another highlight was the Ole Bull tribute. 2010 marks the 200th anniversary of the birth of Norway's first international superstar, violin virtuoso and composer Ole Bull. Forde Folk Music Festival commissioned this special production, honouring Ole Bull's work as a freedom fighter, statesman and proponent for traditional music, at home and abroad. Bull's exceptional violin technique won him the sobriquet "the Scandinavian Paganini".
In addition to classical music, specially Paganini, Bull was also deeply influenced by the traditional music of Norway and other countries. The special concert included performances by fiddler Per Anders Buen Garnås (Norway); virtuoso classical violinist Ragnhild Hemsing (Norway); Dimitris Kostopolous (Greece/Norway) and To sjantifantar (Norway); Cuba Libre (Norway/Cuba); Kroke (Poland), and Orquesta Chékara Flamenca (Spain/Morocco). Ole Bull specialist Professor Harald Herresthal entertained the audience between musical sets, with excerpts from books about the famed violinist. In 2010 the Norwegian record label 2L released recordings of Ole Bull's violin concertos and his Spanish fantasy "La Verbena de San Juan".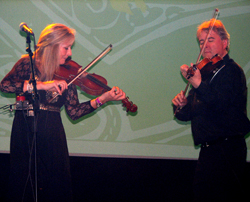 Legendary Irish group Altan celebrated its 25th anniversary at Festsalen hall in Førdehuset. The largest of the Førdehuset concert halls was full and Altan delivered a memorable and spirited performance. Altan played their most popular songs and instrumental pieces, clearly demonstrating that they are still one of the leading forces in contemporary Irish folk music. As special treats, Altan invited their Norwegian friend Annbjørg Lien on stage, as well as two talented young Irish step dancers. Altan's most recent recording is Altan: 25th Anniversary Celebration.
Later in the night, Finnish-Norwegian band gave a kick ass performance with its bold vision of traditional Nordic dance music. Fronted by four young fiddlers, the dizzying fast musicians encouraged dancing and gave the audience a fabulous time. Frigg's most recent album is Economy Class.
The vibrant Afro-Honduran music of Garifuna musician Aurelio Martinez followed, with popular dance music rooted in the traditions of Africa and the African diaspora in Central America and the Caribbean. Martinez's first solo album is titled Garifuna Soul. A new album is scheduled for release in 2010.
All photos by Angel Romero
Author:
World Music Central News Department
World music news from the editors at World Music Central