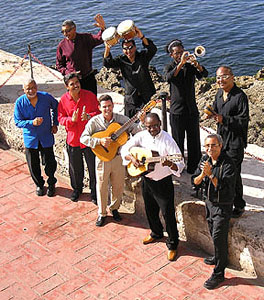 Sierra Maestra, from Cuba, and Angelique Kidjo, from Benin in West Africa, have been added to WOMAD Charlton Park 2010 in Wiltshire, which will be held on July 23-25.
Angelique Kidjo, with her striking shaven-headed look, has become something of a pan-African icon for both her musical contributions and her humanitarian work.
Angelique Kidjo's new album, Oyo, is a collection of covers of songs that inspired her growing up in Benin: Mayfield, Aretha Franklin, Otis Redding, James Brown and Miriam Makeba, Plus Beninese Traditional Music and Songs from Hollywood and Bollywood Films.
Sierra Maestra have been tireless champions of that glorious Cuban music called son. Faithfully acoustic but brimming with passion and energy, the band is an irresistible force.
Buy albums by the artists:
Angelique Kidjo:
Sierra Maestra:
Author:
World Music Central News Department
World music news from the editors at World Music Central