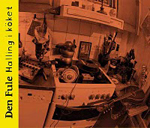 Den Fule
Halling I Köket (Footprint Records)
Fans of the Swedish folk rock scene bided their time through the long 10-year hiatus now have Den Fule back on the music scene performing and new recording. Halling I Köket on the Footprint Records label and distributed by Naxos Sweden is available for import only, but it's well worth revisiting this Nordic folk rock group.
Disbanding after their recordings Lugumleik and Skalv and 1993 Swedish Grammy award for Best Folk Music Album, Den Fule got back together and started performing again in Sweden in 2007 and hit the Nordic Roots Festival in Minneapolis, also in 2007. Halling I Köket comes in a welcomed Swedish breath of fresh air to folk rock fans.
Slipping effortlessly into a sound that's sure to please folk, jazz and progressive rock devotees, Halling I Köket opens with the bright, catchy track "Städa" before delving deep into the fantastical "Norskorna" with its swirling blend of flute, guitar and chunky progressive rock percussion. "Glimten" is a revolving theme surrounded by strings, guitar and flute fused together to create a folksy wonderland with deep jazz tones.
The sound of Den Fule, crafted by Stefan Bergman on bass and guitar, Henrick Cederblom on guitar, mandolin, violin and viola, Christian Jormin on drums and percussion, Sten Källman on soprano and baritone saxophone and Jonas Simonson on flues and bass clarinet, comes across clean and fresh sounding. Tracks like "Grums/Delta" have a taut folk feel while the smooth, savvy "Rökschottis" is all slick guitar. "Knöltoppen" is power packed with slick saxophone riffs and a kick ass drum solo that includes guest musician Baboucarr Jagne on djembe, all against a jazzy frame.
The deceptively delicate "Liabekken" pulses with horn and flute, while title track "Halling I Köket" kicks in with plumy percussion section and a sultry flute in a sort amorphous world music themed track. Rounding out the CD is the frothy "Hunden," a track wrapped up in a good natured Swedish folk feel.
Den Fule has returned and crafted a first rate recording with Halling I Köket that will have folk and progressive rock fans swooning.
Buy the album: from cdon.eu or naxosdirect.se. Other recordings available: Quake
Author:
TJ Nelson
TJ Nelson is a regular CD reviewer and editor at World Music Central. She is also a fiction writer. Check out her latest book, Chasing Athena's Shadow.
Set in Pineboro, North Carolina, Chasing Athena's Shadow follows the adventures of Grace, an adult literacy teacher, as she seeks to solve a long forgotten family mystery. Her charmingly dysfunctional family is of little help in her quest. Along with her best friends, an attractive Mexican teacher and an amiable gay chef, Grace must find the one fading memory that holds the key to why Grace's great-grandmother, Athena, shot her husband on the courthouse steps in 1931.
Traversing the line between the Old South and New South, Grace will have to dig into the past to uncover Athena's true crime.