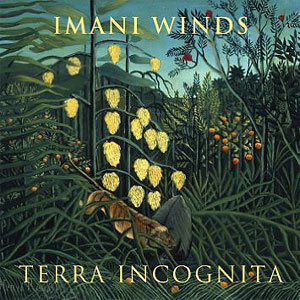 Imani Winds' new album Terra Incognita (E1 Music) will be available on August 24. The album marks the fifth release on E1 for Imani Winds which has, since the Grammy nominated debut release in 2005, established itself as the premier wind quintet in North America. The recording – titled Terra Incognita after Wayne Shorter's piece written for the group – celebrates new additions to the woodwind quintet repertoire with three unique compositions by jazz greats Jason Moran, Paquito D'Rivera and Shorter. These works, commissioned and written for the enterprising Imani Winds for their Legacy Project, have become staples in their repertoire, and audience favorites.
That these three internationally renowned artists have chosen Imani Winds as the interpreter for their composition is a source of great honor for the group. Each piece on the album reimagines the definition of standard American chamber music by incorporating colorful harmonic language and, especially in the case of the title track, a unique perspective on structure.
Terra Incognita is the first piece Wayne Shorter has ever written for another ensemble. It is infused with his unique harmonic language, but also honors the institution of the traditional woodwind quintet. Written in 2008, it was premiered at the La Jolla Chamber Music Festival and performed at Carnegie Hall. Master clarinet player Paquito D'Rivera joins the Imani Winds on his own piece, Kites, along with pianist Alex Brown.
Paquito's work captures the spirit of his youth and the soaring kites he recalls in Havana, Cuba, where he lived until 1981, before defecting to the United States. Jason Moran's Cane reminisces about his family's history in rural Louisiana, in the town of Natchitoches. Creole flavors infuse this four-movement work, as does his pride in his family's strong and determined roots.
Imani Winds on tour:
Sept. 23, 2010 / Clemson, SC
Sept. 25, 2010 / Huntsville, AL
Sept. 26, 2010 / Fayetteville, NC
Sept. 30, 2010 /Joplin, MO
Oct. 15, 2010 / Omaha, NE
Nov. 6, 2010 / South Hadley, MA
Nov. 7, 2010 / Boston, MA
Nov. 14, 2010 / San Antonio, TX
Nov. 15, 2010 / Fayetteville, NC
Nov. 19, 2010 / Boulder, CO
Nov. 20, 2010 / St. Cloud, MN
Nov. 21. 2010 / St. Paul, MN
Dec. 4, 2010 / Lewisberg, PA
Buy Terra Incognita
Author:
World Music Central News Department
World music news from the editors at World Music Central