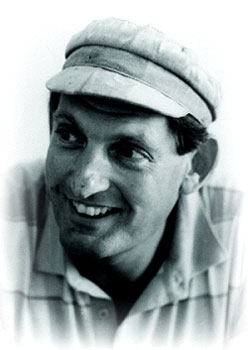 ARC records reported today the death of David Fanshawe, who passed away on 5th July 2010 following a stroke. He was aged 68.
"David was a composer and explorer, ethnic sound recordist, educator, photographer and much much more," said Chris Tomsett. "During his truly amazing life David traveled the world recording and documenting the lives and music of the indigenous peoples of many countries and cultures. His legacy is cemented in the Fanshawe Collections, some 3000 tapes and 60,000 images taken by David on his travels in Arabia, Africa, South East Asia and the Pacific between 1967 and 1994."
His work has been the subject of biographical documentaries shown on the BBC including: African Sanctus, Arabian Fantasy, Musical Mariner (National Geographic) and Tropical Beat.
David Fanshawe was born in 1942 in Devon, England and was educated at St. George's Choir School and Stowe. In 1959 he joined the Film Producers Guild in London, gaining valuable experience as a documentary film editor and sound recordist. In 1965 he won a Foundation Scholarship to the Royal College of Music, studying composition with John Lambert.
His ambition to record indigenous folk music began in the Middle East in 1966 and was intensified on subsequent journeys through North and East Africa (1969-75), resulting in his unique and highly original blend of Music and Travel. In Africa he succeeded in documenting hundreds of tribes, achieving such close rapport with local communities that they gave him special permission to record their performances.
Compositions feature his highly acclaimed choral work African Sanctus.  Other concert works include: Dover Castle, Salaams, The Awakening, Dona Nobis Pacem – A Hymn for World Peace, Tarka the Otter, Serenata, Epitaphs, Christmas music and his paean to the new millennium Fanfare to Planet Earth and Millennium March. Latest Compositions include Trafalgar and Tsunami: Lament of the Seas.  He has also written over fifty commercial scores for Film and Television including Rank's Tarka the Otter, BBC's When The Boat Comes In and YTV's Flambards. His recordings feature on films like "Seven Years in Tibet" and "Gangs of New York".
Since 1978, his ten year Odyssey recording across the Pacific ocean has resulted in a monumental archive of 2000 stereo tapes, 950 boxes of coloured slides and 40 volumes of hand-written journals, preserving and documenting the traditional music and oral traditions of Polynesia, Micronesia and Melanesia.
David Fanshawe married Judith Croasdell Grant in 1971, they have two children Alexander and Rebecca (marriage dissolved 1985).  He married his second wife Jane in 1985, they have one daughter Rachel and live in Wiltshire, England, home of the Fanshawe Collections.  David Fanshawe's current projects include his new CD "Sea Images – Best of David Fanshawe", copying and cataloguing his Pacific Collections, whilst composing his new major work "Pacific Odyssey".
"We at ARC Music have enjoyed a long relationship with David dating back to the early 90's, which has seen us release several recordings from this incredible collection.
Many of us have had the privilege of meeting David at various times over the years, and will miss his sense of humor, enthusiasm and infectious spirit.
It was an honor being able to work with David, and we thank him for his friendship, his tireless effort to preserve the ethnic music of world cultures, and his lasting contribution to the world of music. Our thoughts are with David's family: wife Jane, son Alexander, and daughters Rebecca and Rachel."
A memorial website has been set up at www.davidfanshawe.com to honor his extraordinary life and career. A memorial service will be held later this year.
Author:
World Music Central News Department
World music news from the editors at World Music Central