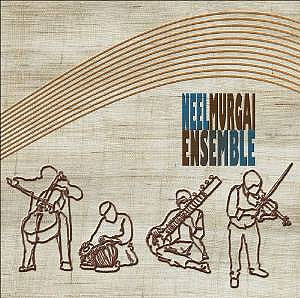 Neel Murgai Ensemble
Neel Murgai Ensemble (Innova Records, 2010)
Every once in a while a CD shreds every fusion you thought possible. That's where Neel Murgai Ensemble comes in with their self title recording on the Innova Records label. Dubbing itself as "the ancient future traditional," Neel Murgai Ensemble finds a leaping off point in North Indian classical music and plunges directly into jazz, minimalist and, impossibly, Eastern European gypsy song. Surprisingly, this works on an elemental level that it triggers the musical imagination.
Breaking wide open Indian ragas, dipping fingers into the riches of gypsy music, exploring original compositions and drawing forth the intricacies of minimalist music, sitar and daf musician Neel Murgai, viola musician Mat Maneri, tabla player Sameer Gupta and cellist Greg Heffernan seek out and find "the ancient future traditional." The end result is hypnotically stunning.
Opening with the Raga Charukeshi inspired "Charukeshi Monday," the Neel Murgai Ensemble at first draws the listener in with sitar before slipping off in to space with string lines that seem to float in space against the delicate intricacies of the tabla. "Panchatantra" opens as a minimalist round, built up over its length with an enchanting exuberance before riffing on some plumy solos. "Space Twang" is indeed wonderfully twanging, steeped in classical style and richly ripe with Mr. Murgai's sitar lines.
Now just when you think you know where this recording is going, the Neel Murgai Ensemble throws a delicious curve in your path with "Evening in A" Raga Yaman." Thick and jazzy, this piece pulses with a savvy coolness drawn from the Raga Yaman. "Coi Umeed" veers off in another direction all together, careening along an Eastern European gypsy road. Dark and full of cello shadings, this track employs some spooky vocals from an Urdu Ghazal.
Neel Murgai Ensemble returns to a North Indian classical mode with the deftly drawn "Raga Khammaj, Rupak Tala" before closing with the explosive improvisation piece "Ngong." While it might not be to everyone's taste, this piece really dazzled me with Mr. Murgai's daf work and some pretty stunning overtone singing, or throat singing, and its powerful subterranean feel.
Neel Murgai Ensemble has certainly stepped off the beaten path with this recording, and yet it treads more ancient and modern paths at the same time in the process. Sumptuously wrought, Neel Murgai Ensemble is exotically masterful.
Buy the album:
Author:
TJ Nelson
TJ Nelson is a regular CD reviewer and editor at World Music Central. She is also a fiction writer. Check out her latest book, Chasing Athena's Shadow.
Set in Pineboro, North Carolina, Chasing Athena's Shadow follows the adventures of Grace, an adult literacy teacher, as she seeks to solve a long forgotten family mystery. Her charmingly dysfunctional family is of little help in her quest. Along with her best friends, an attractive Mexican teacher and an amiable gay chef, Grace must find the one fading memory that holds the key to why Grace's great-grandmother, Athena, shot her husband on the courthouse steps in 1931.
Traversing the line between the Old South and New South, Grace will have to dig into the past to uncover Athena's true crime.