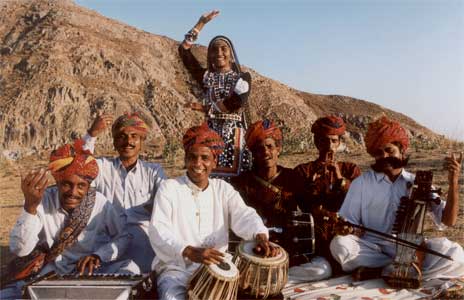 Excitement is building at the Santubong Beach Resort, on the evening of the 13th Sarawak Rainforest World Music Festival. In a press conference this afternoon festival director Benedict Jimbau welcomed the media delegation extending a warm welcome to first time visitors and a welcome home for people who have been before.
Mr Jimbau reminded us that it is a big change from the days when only 300 attended the festival right at the beginning, to today, when over 70,000 visitors  are expected across three days.  A special welcome a round of applause was given to the local Kuching media, who have been extremely keen to secure their media passes for what has now become an iconic tourist event bringing in over 80.5 million MR into the local economy.
Relieved and jubilant that the festival survived last year's Bird Flu requiring the festival to buy boxes of masks and face potential closure if they weren't worn, Randy Raine Reusch, the festival consultant said the only problems this year were down to the usual things musicians do (a couple of groups couldn't  be programmed due to band break ups and failure to obtain passports).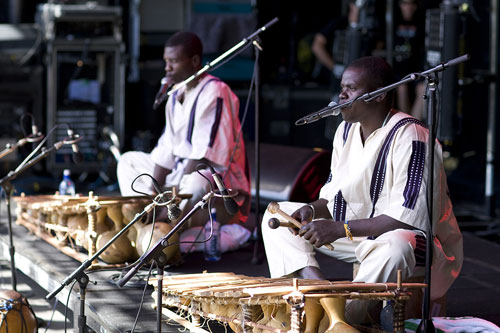 He enthused about having Farafina here on the Rainforest world Music stage as well as the Musafir Gypsies from Rajasthan, made famous in Tony Gatlieff's film Latcho Drom about the movement of gypsy music from India, across the Iranina plate and into Europe .  "I met them in India last year and they're here on our stage" said Randy, using a phrase that he repeated with pride many times.  He continued by saying  " and one group I am really excited about comes from just up the road, Pingasan'k, they play bamboo tube zithers, they come from here and the instrument traveled to Africa and up north to China and from there to Japan becoming prominent instruments of these countries and its all from here."
We were reminded that in a world where there is war, discord even amongst rival football fans, that here at the  Rainforest World Music festival "all countries are playing music together, its the voice of culture, the voice of the people. It's what we do here", said Randy who then urged everyone to attend the workshops.
With an idea taken from the Winnipeg festival the workshops will mix up the musicians from all around the world sharing their dances or in one workshop sharing how bagpipes are played differently around the world….at which point he urged Manni not to bring his vuvuzela, the newest wind instrument at this year's festival.
Author:
Jill Turner
Jill Turner contributes to Songlines Magazine, World Music Central and is on the fRoots critics albums of the year panel. Her radio show GondwanaSound broadcasts on Sheffield Live! 93.2FM to the fourth largest city in the UK and is carried on both Radio Groovalizacion and African Internet Radio.