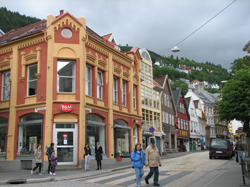 Following an initiative started a few years ago, the Førde Folk Music Festival, with the support of various agencies in Norway, invited a delegation of international professionals that included music journalists and performing arts presenters. World Music Central was invited this year and sent its managing Editor, Angel Romero to cover the event.
Before traveling to Førde to attend the festival, most of the international delegates arrived to the scenic city of Bergen for a two day trip throughout the celebrated Norwegian fjords.
The group of international delegates travelers included Paul Petran, Producer/Presenter of "Music Deli", ABC Radio Nat Melbourne (Australia); Roger Bouwens of Cultureel Centrum Leopoldsburg (Belgium); David McLoughlin, Director of Brazil's Music Export Service; Andrea Palatnik (Brazil); Derek Andrews of Global Café (Canada); Marek Garztecki of Cross culture Warsaw festival (Poland); Brazil-based Spanish journalist Manuel Perez of EFE news agency and a major Spanish newspaper; Czech journalist Petr Doruzka; Birger Gesthuisen of WDR radio (Germany); Nancy Groce, Folklorist/Folk life specialist, U.S. Library of Congress (United States); Gerald Seligman, world music consultant and former Womex director; Ochirhuyag Purvee of Mongolia's NTV channel; Valerio Corzani of Il Manifesto, Il journale della musica and Radio3 (Italy); Wagner Campos, journalist from Brazil; Evangeline Kim of National Geographic Music; and Steve Hochman of spinner.com.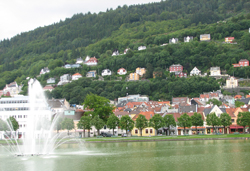 The international delegation was accompanied by four Norwegian music industry/government agency professionals, who also acted as guides: Inger Dirdal of Music Export Norway; Aslak Oppebøen of the Norwegian Information Center; Moe Trond Stenseth of the Norwegian Agency of traditional music and dance; and Synnøve Bjørset of the Førde Folk Music Festival, who is also a notable hardanger fiddle player.
The international delegates arrived to Bergen on July 6th to begin their journey the following day. Bergen is considered one of the most beautiful cities in Norway. "David McLoughlin, Director of Brazil's BM&A (Music Export Service) and I arrived to Bergen in the afternoon and took a nice long walk throughout the city," says Angel Romero. "Bergen has an attractive waterfront and is surrounded by mountains with beautifully painted homes. I really enjoyed the older part of downtown Bergen with its narrow streets, as well as the waterfront, and the surrounding hills."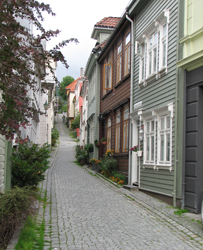 "Most fascinating to me was the fact that at 11:00 pm it was still daylight. I had never experienced that before and it was very interesting," adds Angel. "The streets near our hotel were full of people at that time. Many were watching the Football (soccer) World Cup games in the restaurants and bars. All hotels have nice shades in the windows for the tourists who are not accustomed to sunlight at night."
Related links:
Bergen photos by Angel Romero
Author:
World Music Central News Department
World music news from the editors at World Music Central