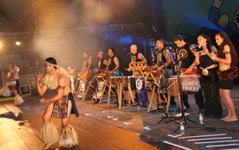 Te Vaka, which means "The Canoe", is due to embark on its first major tour of the United States in August 2010. Led by award-winning singer-songwriter Opetaia Foa'i, [Pronounced oh-peh-tie-ya foh-aye ], Te Vaka's infectious melodies, Polynesian drums, and world beat rhythms draw on its roots in the cultures of Tokelau, Samoa, Cook Islands, and New Zealand Maori as well as today's funk, pop, and rock sensibilities.
With Opetaia on vocals and lead guitar, using open tunings often associated with slack key techniques, the band brings its lively energy to a mix of traditional and modern instruments, from log drums to electric guitar, bass, and keyboards. The beauty of the rich vocal harmonies, dancing that evokes Pacific traditions, and the poetry of lyrics in Tokelauan and Samoan languages belie the serious intent of many of the songs, which address current issues in the Pacific including climate change, family and cultural displacement, as well as the more recent tolls of the tsunami in Samoa and drug culture among indigenous youth. Yet, the band delivers up a rocking, joyful evening as the multi-talented musicians and singers double as dancers and chanters (Pacific-style).
Te Vaka has performed in 37 countries around the world, including Europe, Asia, and the Pacific, and released six albums and one live performance DVD to date. Boasting an international following, Te Vaka has appeared at London's Royal Albert Hall, at the Beijing Olympics, headlined music festivals throughout Europe, and been favorites at WOMAD festivals around the world. They have received numerous awards, including Best Pacific Group (for the second time) at the 2010 Pacific Music Awards (first in 2008), as well as awards for Best Pacific Language Song for their newest CD Haoloto (2010) and Best Pacific Album for Tutuki (2008).
Opetaia voiced his sentiments at the release of Te Vaka's newest CD "Haoloto", which can easily serve as the motto for the band: "Once the canoe got rolling with all on board, there was a feeling that we were heading for somewhere special". And now North American audiences can hop on board.
Tour Schedule
07/24/2010, Sat
Mission, BC
Canada
Mission Folk Music Festival
07/31/2010, Sat
Canmore, AB
Canada
Canmore Folk Music Festival
Show: 5 PM
08/08/2010, Sun
Edmonton, AB
Canada
Edmonton Folk Music Festival
Show: 2:30 PM
08/12/2010, Thu
Santa Cruz, CA
The Catalyst
1011 Pacific Ave.
Doors Open: 8:30 pm, Show: 9 pm
# Live in the Atrium • Ages 21+
08/13/2010, Fri
San Francisco, CA
Great American Music Hall
# Ph: +1.415.885.0750
08/14/2010, Sat
Portland, OR
The Aladdin Theater
3017 Southeast Milwaukie Ave.
# Ph: (503) 234-9694
08/16/2010, Mon
Seattle WA
The Triple Door
216 Union Street
Doors Open: 5:30 PM, Show: 7:30 PM
08/21/2010, Sat
Phoenix, AZ
Mesquite High School
Show: 7:00 PM
# Ph: 602-448-0260
08/23/2010, Mon
Santa Fe, NM
Santa Fe Brewing Co.
37 Fire Place
08/28/2010, Sat
Irvine, CA
Orange County Great Park
Show: 8:00 PM
Buy Te Vaka's albums:
Author:
World Music Central News Department
World music news from the editors at World Music Central