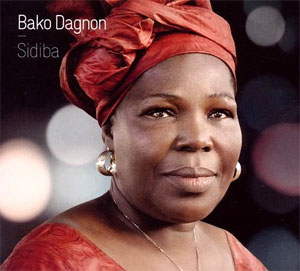 Bako Dagnon
Sidiba (Syllart Productions/Discograph, 2010)
Bako Dagnon's Sidiba is one of those feel good CDs out of Mali that shimmers with West Africa's rich musical landscape. Following up on her 2007 debut recording Titati, Ms. Dagnon's glorious vocals suffuse Sidiba with a regal female power. Described as a "singer's singer" and one of Mali's Mande musicians, Ms. Dagnon's music revolves around the richness of Mande history and culture.
With musical sages Ibrahima Sylla, executive producer for Syllart Productions, the late Ali Farka Toure and Banzouman Sissoko advising her and championing her career, Ms. Dagnon has stepped out of the shadows and branded her music with her own personal stamp.
Opening with the richly worked "Wouya Larana," it's clear that Ms. Dagnon is a force to be reckoned with as her vocals stir up the tightly drawn composition. Sidiba just gets better and better with powerful vocals suffusing tracks like "M'Ba," the title track "Sidiba" and "Le Guide de la Revolution." Ripe with electric guitar, ngoni and intricately worked percussion, Sidiba evokes the West African landscape and brings to life the history of the griot tradition.
Tracks like "Badjijui" swing to a low slung bluesy beat with stunning flashes of electric guitar against the power of Ms. Dagnon's vocals, while tracks like "Alpha Yaya" make way for a precious expressiveness that is certainly a mark of Ms. Dagnon's allure. Other gems include the darkly smoky "Fadeen To" and the lighthearted easy swing of "Be Be Bori I No Fe."
Ms. Dagnon reigns supreme over Sidiba with a regal charm that's sure to enchant music fans everywhere.
Buy the album:
Author:
TJ Nelson
TJ Nelson is a regular CD reviewer and editor at World Music Central. She is also a fiction writer. Check out her latest book, Chasing Athena's Shadow.
Set in Pineboro, North Carolina, Chasing Athena's Shadow follows the adventures of Grace, an adult literacy teacher, as she seeks to solve a long forgotten family mystery. Her charmingly dysfunctional family is of little help in her quest. Along with her best friends, an attractive Mexican teacher and an amiable gay chef, Grace must find the one fading memory that holds the key to why Grace's great-grandmother, Athena, shot her husband on the courthouse steps in 1931.
Traversing the line between the Old South and New South, Grace will have to dig into the past to uncover Athena's true crime.