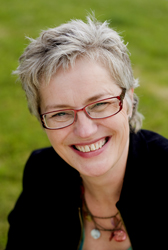 The Førde Folk Music Festival will be held next week, July 8-11 in Norway. Førde is one of the leading world music festivals in Europe and World Music Central, as part of its World Music Profiles series, had the opportunity to interview the festival director, Hilde Bjørkum.
Mrs. Bjørkum is also the president of the European Forum of Worldwide Music Festivals (EFWMF), an organization of European world music festivals. This year's festival theme is 'Freedom and oppression', focusing on musicians' struggle for human rights, and cultures that struggle for their survival.
The Forde Folk Music Festival has teamed up with Freemuse under the theme of freedom and oppression for this year's festival. What do you hope you accomplish with this particular theme?
I hope that both the audience and media will pay some attention to the important matter that still, there are musicians and cultures that are not allowed to express their music or practice their culture freely, or face neglect and marginalization. We will also look at the history, both Norway and many other countries which now have freedom of speech, have a recent history of oppression and marginalization of minorities like the Sami people, Gypsies or Jews. But, first and foremost, this year's festival will feature a major tribute to musicians who refuse to be silenced, and a celebration of the rich musical traditions that are highly vivid today in spite of attempts at suppression and eradication. We will celebrate the freedom of art and the freedom of artists!
With artists from Iran, Palestine and Mauritania set to grace the stages at the festival, what do you see as the international music festival's role in finding these artists and seeing that they find a voice?
The Førde festival has a general aim to give room to artists from all over the world, and to give the audience new experiences by presenting artists that are not well known for the general audience in Norway. As the chairman of the Norwegian PEN [international association of writers], Anders Heger expresses it: "Freedom of speech is not only about the ability to say something, it is also a matter of creating a basis so that what is said can be heard by anyone."
Are there are artists you tried to book for this year's festival that you were not able to bring to Norway?
We tried to get Uyghur musicians directly form Xinjiang in China, but during the booking period, it was not even possible to reach contact persons there by email or telephone, because all lines were blocked by the authorities. Instead we will present Uyghur musicians based in London; and I am sure they will do very well! Luckily, all our musicians this year got their visas now, so we are really excited to be able to welcome all of the 250 musicians from 25 countries to Førde soon!
On the festival's website it says that this year's festival has been devoted to "celebrate music's immense power and survival capability." What power does music hold for you personally?
Music is a very important part of my life, I cannot imagine living without it! I grew up with music in my family, I learned the traditional dancing from my father at the kitchen floor, I play the hardanger fiddle and I love singing…. Music has a very strong impact on me, I can be really excited by the fantastic life embracing music of Parno Graszt for example, moved to tears by the melancholy of Kroke's Klezmer music or get on my feet for the dance floor when Frigg plays a lively polka the way only they do it. Sometimes, music can also be provocative to me, especially if it is too loud for my ears! I think, in general, we need music and other art expressions for many purposes, for pleasure and beauty, but also for reflection and thoughtfulness. Music can open new perspectives and give us memories that we will never forget as long as we live; yes, music is for sure powerful!

What would like music fans to come away with from this year's festival? And, do you see this year's theme as a more urgent call to activism than in years past?
When I work with the programming, I have an aim that all of the audience will go home with at least one new musical experience and at least one experience that is so strong for them that they can hardly forget it! I will not say that the festival program is an urgent call for activism, I leave it to each and everyone to act or not as they like. But I hope this year's focus will make us all thinking over that the respect for free speech and respect for all the different cultures and music expressions in the world are basic values that we should highly appreciate, and that are worth struggling for.
Have you spoken with any of the artists from this year's festival and what did you learn about their particular circumstances in dealing censorship?
Not all of the artists in this year's program has been directly censored; they are more representatives of cultures that survived oppression and marginalization over centuries. Others have felt oppression and censorship more directly, their songs forbidden to play on the radio for ex. But I would rather leave to the artists themselves to tell you their stories in detail.
How has the festival evolved throughout the years?
The Førde festival has been organized since 1990. It has grown a lot and have become more professional in all aspects over the years, but the main idea remain the same; Forde shall be a meeting place for traditional and world music from all over the globe, and the festival shall stand out among others with high artistic and organizing quality and original and careful programming. We work really hard for this, and each year we are anxious, hoping that we will succeed with our ambitious goals.
If anyone visited Bergen, what stores and music venues would you recommend?

I would recommend them to visit the stores and pubs at the Hansa Bryggen. This old Hanseatic wharf is architecturally unique and has gained a place on UNESCO's World Heritage List. I would also recommend to visit the home of the famous Norwegian composer Edvard Grieg at Troldhaugen where concerts also are arranged, and also the very original house at Lysøen, built for Norway's first world superstar, the violinist and composer Ole Bull, for whom we this year celebrate 200 years anniversary.
The "USF Verftet" is a good place to listen to jazz, and last but not least, I would recommend to visit Norway's best folk/trad. music club "Columbi Egg" where host and accordion musician Gabriel Fliflet invites musicians from Norway and abroad to informal club concerts throughout the year. During the Forde festival, he moves his club concept to Førde.
Where were you born?
I was born in a small village in Årdal, in the very inner part of Sognefjorden, Norway's longest and deepest fjord. When I grew up, there were no road connection to the town centre of Årdal, we had to go by boat. In the small village where I lived, there were no cars, and the fjord and big mountains with a lot of waterfalls surrounded us. Maybe this sounds very exotic for many of you, but for me it was of course natural…
What type of music have you been listening to recently?
Last weekend, I went to the biggest competition for trad.music in Norway, the "Landskappleiken". There I listened to some of the finest fiddlers and singers in Norway. And the very exciting fact is that there are so many young people among these musicians, and the artistic level has been increasing over the last year, really impressing! I have also been listening again to the festival musicians CD's the last weeks; I feel privileged to have the opportunity to present all these wonderful musicians to the audience during the upcoming festival.
Where do you live now?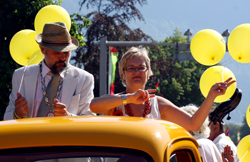 Now, I live here in Førde, just outside the town centre, close to a beautiful lake called "Movatnet". We can practically fish trout from the garden. And still, it is close to all facilities like culture house, shopping malls, library, airport etc.
What do you like to do during your free time?
I love to be with my husband and two children (10 and 13 years), walk in the mountains, read good literature, listen to music, travel to nice places in Norway and abroad – and play hardanger fiddle with good friends!
What country would you like to visit?
I would like to visit all countries I haven't visited yet! I am kind of curious person, there are so many exciting things to investigate of culture, history, geography and people all over the world….
Which is your favorite city?
There are many, hard to choose, but Budapest is one of them; there I have danced the whole night with exceptional good local musicians and dancers. In Norway, Bergen is my favorite city, I lived there as a student and visit it regularly, it is especially beautiful in spring and early summer when all the rhododendron are blooming and people are coming out after a long winter for their first beer at the outside pubs and restaurants by the seaside….
What was the first big lesson you learned about the music business?
I have learned a lot over the years! First of all, that musicians, with few exceptions, are very nice people, easy to cooperate with, and with a real aim to do their best for the audience. Secondly, that the feeling of time is really different from culture to culture, the first years of the festival, we sometimes found artists having a pleasant bath in the river of Forde when they should have been at sound check…. But the main thing is that the more I get known to music and musicians from all over the world, the more I feel there is to learn – exciting!
Related links:
Photo 2: Hilde Bjørkum and the Mayor of Førde City – in front of last year's parade.
Author:
World Music Central News Department
World music news from the editors at World Music Central