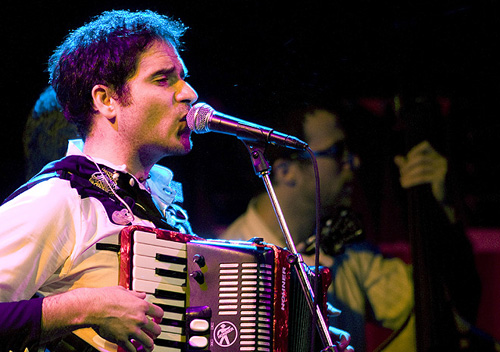 As part of The Jewish Museum's popular SummerNights concert series, singer-songwriter Rana Santacruz will be performing at The Jewish Museum, Fifth Avenue at 92nd Street, New York City, on Thursday, July 22nd at 7:30 PM.
With his modern Mexican folk music, influenced by the golden age of Mexican cinema, Tom Waits, the Smiths, the Pogues, and American bluegrass, Santacruz has won over audiences of all stripes at venues like Austin's South by Southwest, New York's Lincoln Center Out of Doors Festival, and LA' s J. Paul Getty Museum. Performing in Spanish, Santacruz's music is seamlessly cross-cultural.
Santacruz's solo debut Chicavasco is the product of a vibrant musical vision that was shaped by growing up in Mexico City and coming of age in a musical world informed by MTV, where all styles of music are accessible like never before.
Santacruz writes and sings the songs, as well as playing accordion and a variety of stringed instruments. To flesh out his tunes, he enlisted a cast of a dozen versatile musicians who add a folk and neoclassical flare with violin, cello, sax and jaw harp as well as traditional Mexican mariachi instruments like guitarrón, vihuela, trumpet and tuba.
Born and raised in Mexico City, Santacruz had considerable success with his rock en español band La Catrina. Courted by a number of labels, the group signed with a major label in Mexico in the late '90s. His first experience with the music industry was a classic crash-and-burn; after recording in Mexico, Madrid and Miami, the CD failed to deliver a quick radio hit and his demoralized group soon disbanded.
Buy his album Chicavasco.
Tickets are $15 General Public; $12 Students/Seniors 65+; $10 Museum Members.
To Order Tickets: www.TheJewishMuseum.org/SummerNights or 212.423.3337
Author:
World Music Central News Department
World music news from the editors at World Music Central