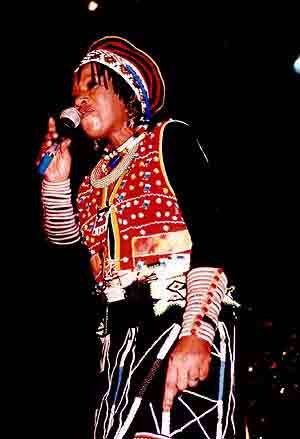 Influential South African singer Busi Mhlongo died June 15th of 2010 of breast cancer at Albert Luthuli Hospital in Cato Manor, Durban. She was 62.
South Africa's Minister of Arts and Culture, Ms Lulu Xingwana, wrote a tribute to the life and work of Busi Mhlongo issued by the Department of Arts and Culture on 16 June 2010: "It is with immense sadness that we have learnt of the passing of one of South Africa's most talented and creative musicians, Busi Mhlongo. Through embracing traditional music and promoting these unique rhythms and distinctive sounds, Busi Mhlongo gave a new voice to South African music. In this way she helped extend possibilities within the national cultural landscape and contributed to the development of world music.
Her life's work and the songs that she has bequeathed us bear testimony to her artistic integrity and demonstrate her authentic vision. Her versatility enabled her to combine rhythm and blues, maskandi and jazz and yet remain rooted to the rural sounds of KwaZulu-Natal. The broad appeal of her work is also because she succeeded in modernising traditional sounds, fusing urban and rural, and thus giving new meaning to people's experience through her art.
At a time when women musicians were not accorded the recognition that they ought to have received, Busi Mhlongo was truly a trailblazer who defied a male dominated society and asserted a woman's voice with great power. She joins the great musical heroes who have left our midst. We shall remember her for her passion and dedication to her art. We also recognise her strength of character and courage and her will to persevere, despite her long battle against breast cancer.
Her music will endure and continue to inspire us and generations to come. As she broke new ground through sharing her talents and skills with the world, indeed the youth of today should also dedicate their lives to building a new country and a people's culture in her honour.
My heartfelt condolences to her family, friends and to all those who loved her and cherished her."
The African National Congress (ANC) expressed grief about the passing of Busi Mhlongo. "Her passing on after a long illness is a huge loss to South Africa, particularly the music fraternity," spokesman Jackson Mthembu said. The ANC published the following release: "Mama Busi Mhlongo succumbed to her brave battle with cancer. Born in 1947, like many South African artists of her time, she travelled overseas in order to pursue her love for music.
Better known as the "Queen of Maskanda" her musical style drew on her rural KwaZulu-Natal roots. It incorporated South African styles such as mbaqanga, maskanda, marabi and traditional Zulu fused with contemporary elements. She transformed the Maskanda guitar music of migrant Zulu mine workers into an instrument of peace. Her music carried poignant messages of South Africa's struggle for freedom and justice. She ensured her compositions defied categorization and emphasized the universality of the human race.
Her love for music kept the flames of hope alive during our country's struggle for democracy. Her music encouraged and influenced a range of contemporary South African artists. She inspired the nation and let the world know of South Africa's quest for freedom."
Messages of condolence also poured from the United States. "I am very sad to report the death a true South African original, Busi Mhlongo," said Afropop's producer Sean Barlow. "You may have heard her brilliant album, "Urbanzulu" – so beautiful, so moving, that Zulu trad guitar, that leaping voice. "
Read her biography at Busi Mhlongo.
Author:
World Music Central News Department
World music news from the editors at World Music Central