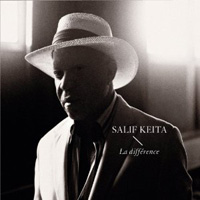 Salif Keita
La Différence (Emarcy Records/Decca, 2010)
Mali has given the world so many great musicians that it's difficult to point out one who could be considered the definitive voice of that landlocked West African nation. Salif Keita might well top most polls on the topic, though. Shunned by society for his albinism and scorned by his family because of his musical ambitions, Keita nonetheless made his mark as a singer with both the Rail Band and Les Ambassadeurs, two of Mali's finest musical outfits.
His solo career over the last 20-plus years has been marked by some very fine releases (including the classic Soro, truly a milestone in modern Afropop) as well as a few misfires. La Différence sees him continuing to ride a winning streak that began with 2002's Moffou and carried over onto M'Bemba in 2006.
La Différence rather contrarily to its title, once again leans toward acoustic instruments in lush, layered arrangements and a fair amount of studio polish (resulting from sessions in Mali, France and the U.S.) over which Keita's finely aged vocals, ranging from hushed, gravelly lows to hair-raising highs, reign. And he's singing about subjects close to his heart, including the improving but still troubled status of albinos in African society on the title track and the need to protect the ecosystem of the River Niger on "Sa Ka Na." Plus, a pair of past tunes, "Folon" from the mid-'90s and the Les Ambassadeurs paean "Seydou," get nicely moody remakes.
The album comes across a bit too soft in spots and likely could have benefited from one more uptempo track, but despite such minor shortcomings is a finely crafted addition to Keita's body of work.
Buy the album:
Author:
Tom Orr
Tom Orr is a California-based writer whose talent and mental stability are of an equally questionable nature. His hobbies include ignoring trends, striking dramatic poses in front of his ever-tolerant wife and watching helplessly as his kids surpass him in all desirable traits.