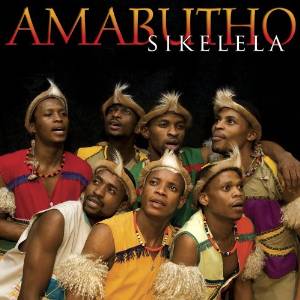 Just as the sporting world is about to turn its focus to South Africa this summer for the World Cup, Toronto-based Alma Records will release the debut recording from the South African group Amabutho. The group made its "formal" musical debut in the wildly successful international theatrical phenomenon Umoja as the marimba band that powered the show's high- energy musical and dance performances. Amabutho was signed to Alma after the label's president, producer Peter Cardianali , saw Umoja while visiting London.

Sikelela is the eagerly anticipated debut album from these seven young men, who grew up in Kwa-Zulu Natal, Durban, and the dusty streets of the Johannesburg township of Soweto. Their name is taken from the term for a regiment of Zulu warriors, but Amabutho are, in fact, the gentlest of warriors. On Sikelela, they deliver a soulful message of peace and unity via the sweet sounds of marimba, percussion and effortless vocal harmonies.
Amabutho's sound is built around the marimba. Most often described as a wooden variation of the xylophone, the marimba is a crucial component of many styles of South African music. In Amabutho's skilled hands, it produces a sound that is simultaneously percussive and delightfully melodic. The group features lead, tenor and bass marimba players, augmented by conga drums, bass drums, jembe, shakers and cow bell.
Amabutho have been chosen to perform at the World Cup opening ceremonies in South Africa in June of this year as a group in their own right as well as part of the cast of Umoja, with which they remain active.
Buy Sikelela.
Author:
World Music Central News Department
World music news from the editors at World Music Central