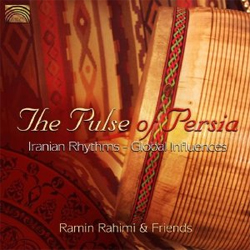 Ramin Rahimi & Friends
The Pulse of Persia: Iranian Rhythms – Global Influences (ARC Music, 2010)
All right all you percussion junkies, Ramin Rahimi has a new CD out on the ARC Music label. The Pulse of Persia: Iranian Rhythms – Global Influences, a follow-up to the incendiary Iranian Percussion and also on the ARC Music label, will have percussion fans swooning with drumming overload. Mr. Rahimi has pulled out all the stops creating a heavily textured exploration of Iranian and Middle Eastern rhythms with the occasional nod to African and Western influences. A round house slap to the senses, Mr. Rahimi and friends take percussion to the extreme this time with tombak, daf, cajon, dhol, udu, congas and timbales with additions of djembe, guitar and additional percussion on this power packed recording.
Joined by Omid Nik Bin on bass, Farid Raoufi on acoustic guitar, Alireza Rahimani Fard on congas, Reza Darband on santoor and barbat, Pasha Hanjani on ney and Houmaioun Poshtdar on kamancheh, Mr. Rahimi revels in his work on tombak, daf, drums, djembe, cajon, udu, timbales, tambourine, conga, dhol, wood block, cowbell and ocean drum. Conjuring up a sound that is gob smacking good, Mr. Rahimi draws in the listener into a musical landscape that is dazzlingly hypnotic.
Opening with the appropriately titled "Tornado," The Pulse of Persia transports the listener on a wild ride that includes the ferociously rich "Dance" in an exploration of Persian rhythms with an almost indefinable flash of funk to it, the dishy and delightful "Eastern" with its sultry lines of ney, santoor and barbat and "Butterfly" with its fabulous flashes of Flamenco guitar and cajon.
Other gems include the steamy Latin inspired "A Happy Night," the Flamenco inspired "Passion" and another Latin flavored track entitled "Acceleration" brimming over with congas, tombak, daf, djembe and cajon. "This Is The Daf" is simply a riveting 11 minutes and 59 seconds of stunning percussive intricacy. Packed with layered daf rhythms, this track digs to the very depths of Mr. Rahimi's considerable talents as a musician and composer.
The Pulse of Persia rockets Iranian percussion into the stratosphere and Mr. Rahimi makes sure you enjoy the ride. As always with ARC Music recordings, The Pulse of Persia's sound is sharply clean and the liner notes are informative and impeccable.
Buy the album:
Author:
TJ Nelson
TJ Nelson is a regular CD reviewer and editor at World Music Central. She is also a fiction writer. Check out her latest book, Chasing Athena's Shadow.
Set in Pineboro, North Carolina, Chasing Athena's Shadow follows the adventures of Grace, an adult literacy teacher, as she seeks to solve a long forgotten family mystery. Her charmingly dysfunctional family is of little help in her quest. Along with her best friends, an attractive Mexican teacher and an amiable gay chef, Grace must find the one fading memory that holds the key to why Grace's great-grandmother, Athena, shot her husband on the courthouse steps in 1931.
Traversing the line between the Old South and New South, Grace will have to dig into the past to uncover Athena's true crime.