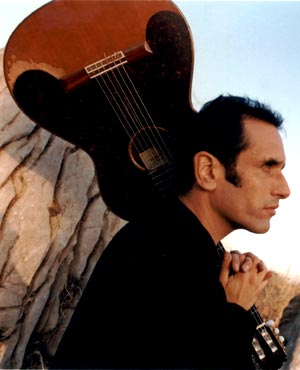 David Broza is set to perform live at (Le) Poisson Rouge on Monday, June 14 in support of his recent release Night Dawn: Unpublished Poetry of Townes Van Zandt. The 12-song set was produced by David Broza and G.E. Smith (Hall & Oates, Saturday Night Live) and features 10 previously unreleased lyrics and poems written by the late Townes Van Zandt–one cover of the last song Van Zandt wrote and one instrumental Broza wrote for Van Zandt. 
David Broza met Van Zandt when the pair played a "Writers in the Round" show in Houston, Texas in 1994. It was the only time the two played together and they did not remain in touch afterwards. On New Year's Day, 1997, Van Zandt tragically passed away and shortly after, Broza was alerted that he had left behind many unpublished writings that would be available to him.
Eight years later, Broza started a four year process writing music for 10 of the unseen works. Broza then finished an 11th, "Harms Swift Way," from a Van Zandt demo. He then composed an original instrumental, "Too Old to Die Young," as a tribute to Van Zandt that closes the album. More than a decade after initially being given to Broza, Van Zandt's unpublished poems and lyrics will now be heard for the first time.
While speaking to Billboard magazine regarding Night Dawn, Broza offered, "It was very mysterious and very sweet and very challenging." He added, "It's like something I have never experienced before. I'm just beginning to understand what's happening here — that it's happening. I only hope I've done those lyrics justice, turning that poetry into song as Townes would have liked."
David Broza was raised and educated in Israel, Spain and England. As a multi-platinum artist over the past three decades, he has positioned himself as an international artist, releasing records in Hebrew, Spanish and English. While he is known primarily in Israel, Spain and America as a balladeer, he's also an accomplished classical guitarist.  
Over the years, Broza has been a soldier, a peace activist, one of the founders of the Israeli peace group Peace Now, a teacher, an artist-in-residence at Bennington College in Vermont, an ambassador of goodwill for UNICEF and has literally circled the globe numerous times performing his music.   >
Making his recorded debut in 1978, Broza has released a total of 25 recordings including 15 solo, studio albums, four live albums, three anthologies and three as a member of a band. He also released the acclaimed David Broza At Masada DVD in 2007, which featured Jackson Browne and Shawn Colvin that received support from PBS.
7:00pm doors | 7:30pm show
$35 advance | $40 day of show
18+ or accompanied by legal guardian
Author:
World Music Central News Department
World music news from the editors at World Music Central