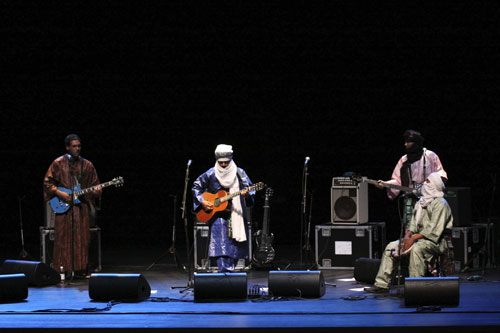 Tinariwen returns to Chicago for a concert on Thursday, June 17, 2010, at 6:30 pm, on the Jay Pritzker Pavilion in Millennium Park. They are preceded by Turkish musician Omar Faruk Takbilek for a night of Muslim voices and music organized in collaboration with the Inner-City Muslim Action Network (IMAN). Admission is free.
Hailing from the Sahara Desert region of Mali, Tinariwen combines traditional Tuareg melodies with blues, rock, Berber, and Arabic influences to create hypnotic, trance-like songs. Many young members, like founder Ibrahim Ag Alhabig, had witnessed violence during the 1963 uprising in Mali and lived a migratory and precarious life in the the Sahara.
Ag Alhabib and his friends started to play music in the late 1970s at parties and weddings in the Tuareg community in southern Algeria. People started to call them "Kel Tinariwen" or "The Desert Boys."
Ag Alhabib and his bandmates continued to play their music throughout the Sahara region, even as many members participated in the Tuareg rebel movements of the 1980s in Libya and then Mali. After a peace agreement known as the Tamanrasset Accords was reached in January 1991, the musicians left the military and devoted themselves to music full time. In recent years, Tinariwen has gained international attention and played hundreds of concerts in Europe, North America, Japan, and Australia.
They've participated in some of the world's premier rock and world music festivals, including Glastonbury, Coachella, WOMAD, and Printemps de Bourges, and their albums Ammassakoul: The Traveler (2004), Aman Iman: Water Is Life (2007), and Imidiwan: Companions (2009) have established them as one of the most popular and best selling African groups on the planet.
Since 2001, the Tinariwen collective has added several younger Tuareg musicians who did not live through the military conflicts experienced by the older members but have contributed to the collective's multi-generational evolution. The current touring group includes Ibrahim Ag Alhabib, Hassan Ag Touhami, Abdallah Ag Alhoussenyni, Eyadou Ag Leche, Said Ag Ayad, Elaga Ag Hamid, Abdallah Ag Lamida, and Mohammed Ag Tahada.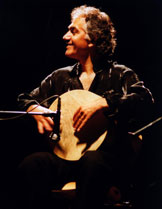 Hailing from a different region of the Muslim world, multi-instrumentalist Omar Faruk Tekbilek begins the evening's musical celebration. Honored as a peacemaker and virtuoso, Tekbilek has established himself as one of the world's foremost exponents of Middle Eastern music. Tekbilek's music is rooted in Turkish and Sufi traditions, but has been influence by contemporary sounds.
Tekbilek has collaborated with a number of leading musicians of international repute such as jazz trumpeter Don Cherry, keyboard player Karl Berger, ex-Cream rock drummer Ginger Baker, Ofra Haza, Simon Shaheen, Hossam Ramzy, Glen Velez, Bill Laswell, Mike Mainieri, Peter Erskine, Trilok Gurtu, Jai Uttal and Steve Shehan among others. He has contributed to numerous film and TV scores and to many recordings including world sacred music albums, and has been touring extensively throughout the Middle East, Europe, Australia, North and South America.
The June 17 concert is presented with IMAN (Inner-City Muslim Action Network) and the 2010 Takin' it to the Streets Festival in Marquette Park on Saturday, June 19. The urban international festival is a Muslim-led festival where artistic expression, spirituality, and urban creativity inspire social change. The concert is supported by contributions from The Chicago Community Trust.
Millennium Park is located in the heart of downtown Chicago. It is bordered by Michigan Ave. to the west, Columbus Dr. to the east, Randolph St. to the north and Monroe St. to the south. Convenient parking is located in the Millennium Park Garage (entrance on Columbus at Monroe or Randolph) and at the Grant Park North and East Monroe Garages, all located within a short walking distance of Millennium Park.
Buy Tinariwen's CDs, DVDs and MP3 downloads:
Buy Omar Faruk Tekbilek CDs:
In North America: Tree of Patience., Mystical Garden, Whirling, Crescent Moon, One Truth, Fire Dance, Gypsy Fire, Dance into Eternity: Selected Pieces 1987-1998, The Best of the Sultans, World Resonance – Cross Cultural Interpretations, and Rare Elements
In Europe: Rare Elements – Omar Faruk Tekbilek
Author:
World Music Central News Department
World music news from the editors at World Music Central