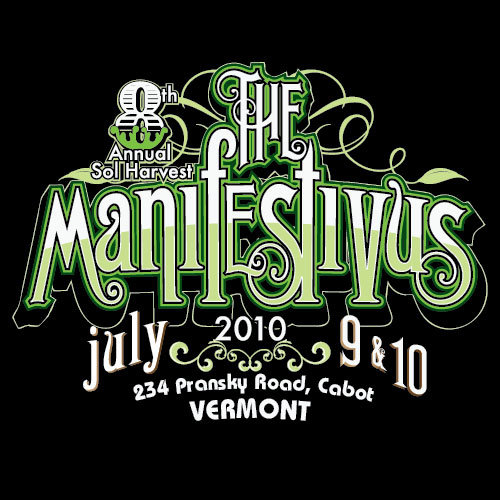 Halogen Media Works, LLC announced the 8th Annual Sol Harvest "The Manifestivus," from July 9-10, 2010 in Cabot, Vermont. The festival will feature: Mos Def, Toubab Krewe, John Brown's Body and Sierra Leone's Refugee Allstars.
Toubab Krewe, based in Asheville, North Carolina, will perform both nights with an additional Toubab and Friends performance on Saturday. Friday night will also include a rare backwoods performance by Grammy-winning, film icon, and all around rock star, Mos Def. Other performers include John Brown's Body, Sierra Leone's Refugee All Stars, DJ Ben Arsenal, Sarazino, Bajah and The Dry Eyed Crew, DJ DonP, D'Moja, Japhy Rider, Casio Bastard, Rough Francis, The Problemaddicts, and more.
The mission of the festival is to create an international world music festival which lifts peoples' spirits in a way that it promotes evolution of the self through music, art and culture. Organizers strive to create an elevated vibe that reminds all in attendance that they are one with each other, the land and all things.
The Manifestivus is held on 93 acres of breathtaking land in Cabot, Vermont, six hours north of New York City and three hours from Boston or Montreal. Set on a gently rolling hillside meadow surrounded by forest, the timber stage creates an unforgettable vibe which hosts 2000 dancing, smiling, loving faces under the moonlit sky. "Festivus" as it's been dubbed, was founded by Toubab Krewe bassist David Pransky, and takes place on his family land. The Manifestivus is also managed by Carlo Rovetto of 1lb Productions and Positive Pie.
The family-friendly event offers on-site camping, medical facilities, vendors of authentic African and Ital food, as well as local arts and crafts. The site also boasts hiking trails wind through beaver ponds, marsh and woodland forest, and a large swimming pond. The 200 + children that attend the festival have an entire supervised area devoted to fun, games and culture.
Tickets are now available online at Higher Ground/ Frontgate>
Retail outlets:
Positive Pie (Montpelier, VT)
Kingdom Outfitters (St. Johnsbury, VT)
Higher Ground – (South Burlington)
Tickets are $75 and $90 at the gate. You may also buy a parking upgrade for on site parking.
A portion of the proceeds will be donated to The Sabu School in Conakry, Guinea, a children's school for Sierra Leone refugees, and will also go to supporting Toubab Krewe's African teachers, their families, and the preservation of musical traditions of West Africa.
For further information:
1-800-515-7580 | To order by phone: (888) 512-SHOW
http://www.facebook.com/manifestivus