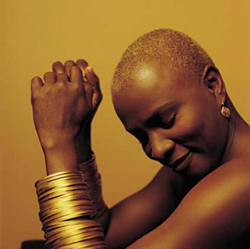 Football (soccer) fans throughout the world will be able to waych African singer and world music diva Angelique Kidjo perform at the FIFA World Cup 2010 Kick-Off Celebration Concert in Johannesburg this Thursday, June 10 at 2pm EST. The performance, which will include a duet with pop icon Legend, is to be broadcast on American TV networks ABC, ESPN, and Vevo; British network BBC Two and other networks worldwide.
Angelique Kidjo's new album, Oyo, is a collection of covers of songs that inspired her growing up in Benin: Mayfield, Aretha Franklin, Otis Redding, James Brown and Miriam Makeba, Plus Beninese Traditional Music and Songs from Hollywood and Bollywood Films.
Kidjo debuted the video for her phenomenal cover of Curtis Mayfield's "Move on Up" on the Huffington Post last week. John Legend and U2's Bono join Kidjo on vocals. The video features dancers from acclaimed Tony-nominated Broadway musical Fela!
Buy the album:
Watch the "Move on Up" video
Author:
World Music Central News Department
World music news from the editors at World Music Central