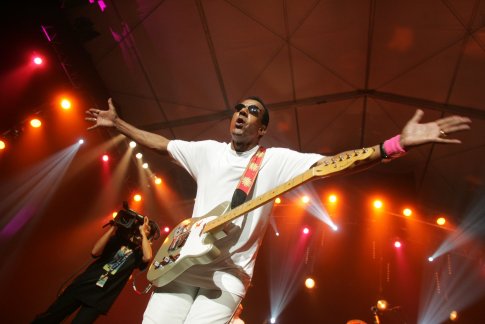 As the 2010 Football World Cup approaches, World Music Central has collected a series of global songs that celebrate football (soccer), the world's most popular sport. Our focus is a series of recordings rooted in traditional music rather than team anthems and pop songs.
Brazilians adore football and Jorge Ben, one of Brazil's best known singer-songwriters is a well known fan. The classic song "Fio Maravilha," which was included in Luaka Bop's 1989 album Brazil Classics, Vol. 1: Beleza Tropical, celebrates João Batista de Sales (a.k.a. Fio Maravilha). He was a star at Rio de Janeiro's most popular team, Flamengo. Jorge Ben, a Flamengo fan, wrote "Fio Maravilha" to celebrate a goal scored by Fio in 1972 at the Estadio Maracana. This was not the only Jorge Ben football song. Ben also composed "Ponta de Lança Africano" which was also included in Brazil Classics, Vol. 1: Beleza Tropical; and "O Camisa 10 da Gavea," from the album África Brasil, which is dedicated to another Flamengo star, Zico, who wore the number 10 shirt.
Zimbabwean world music star Thomas Mapfumo & The Blacks Unlimited honors football and Zimbabwe's national team in the album Chimurenga '98 with the seductive "Shumba Dzenhabvu (The Lions of Soccer)." Another Zimbabwean band, The Real Sounds of Africa, recorded "Soccer Fan" and "Tornados vs. Dynamos (3–3)" about a Tornados-Dynamos soccer match, which was included in The Rough Guide to the Music of Zimbabwe.
Senegalese star Youssou N'Dour, who wanted to be a football player when he was a child, collaborated with Belgian singer-songwriter Axelle Red in the song "Do you mind if I play" released for the France 98 World Cup. "Do you mind if I play" appears in the Music Of The World Cup: Allez! Ola! Ole! album.
Also in 1998, some of the biggest names in Jamaican reggae music got together to record "Rise Up!" under the name Jamaica United to support the Jamaican team during the World Cup in France. This song also appears in the Music Of The World Cup CD.
Lastly, alternative rock and mestizo band Mano Negra (Manu Chao's former band) dedicated a song to Argentine sensation Ricardo Maradona titled "Santa Maradona (Larchuma Football Club)" which was included in Mano Negra's 1994 album Casa Babylon.
Author:
World Music Central News Department
World music news from the editors at World Music Central