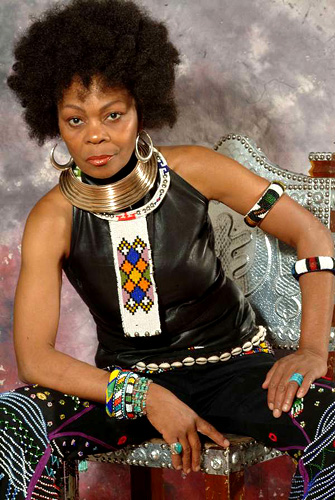 South African singer and musician Doreen Thobekile has died. The revered singer, dancer and musician died Tuesday, June 1, 2010 in London after a long battle with cancer in a hospice care center.
Born in Natal, South Africa and a childhood spent in Durban, Ms. Thobekile learned to play the mbira and umqangala, as well as took to dance and song during her childhood school years. Ms. Thobekile would go on to join the African follies and excel as one of the group's solo dancers. Traveling to Britain in the early 1970s, Ms. Thobekile would make a name for herself as a singer in the Ipi Tombi, a South African based musical, before founding the Zulu dance group Shikisha. She also performed in the London musicals The Pied Piper of Hamelin and Poppie Nogena.
>Her musical career includes singing with the famed Miriam Mkeba and Hugh Masekela, as well as singing and recording with Mose Fan Fan on Somo Somo. She was a participant in the 2001 London Celebrate South Africa festival, performed at the Royal Command Performance at the Commonwealth Institute and during the launch of the South Africa route party for Virgin Airlines. Ms. Thobekile took center stage, fronting Transglobal Underground at WOMAD festivals in 2001and teaming up with them again for her 2005 solo recording London Zulu.
Beyond her musical career, Ms. Thobekile was devoted to the preservation of South Africa's culture and traditions, often participating in cultural and arts workshops. She was also a fierce activist for women's issues in Africa, including working as a founder artist of WOMA, an organization that supports and educates women affected by AIDS in Africa.
Ms. Thobekile will be mourned by family, friends and thousands and fans worldwide. No announcement has be made as to funeral arrangements for Ms. Thobekile.
Author:
TJ Nelson
TJ Nelson is a regular CD reviewer and editor at World Music Central. She is also a fiction writer. Check out her latest book, Chasing Athena's Shadow.
Set in Pineboro, North Carolina, Chasing Athena's Shadow follows the adventures of Grace, an adult literacy teacher, as she seeks to solve a long forgotten family mystery. Her charmingly dysfunctional family is of little help in her quest. Along with her best friends, an attractive Mexican teacher and an amiable gay chef, Grace must find the one fading memory that holds the key to why Grace's great-grandmother, Athena, shot her husband on the courthouse steps in 1931.
Traversing the line between the Old South and New South, Grace will have to dig into the past to uncover Athena's true crime.