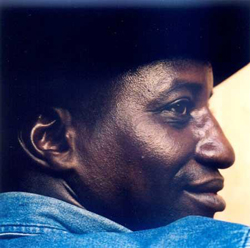 The music world has been stunned by the death of the Malian guitarist Lobi Traoré. Mr. Traoré died on June 1, 2010 in Bamako, Mali. The death of the 49 year-old Traoré was sudden and unexpected, leading some to speculate a heart attack felled the iconic musician.
Born Bouréïma Traoré in 1961 in Bakaridianna, Mali, near where Ségou meets the Niger River. Mr. Traoré picked up his first musical influences from his parents' musical participation in the "komo" society as singers. Equally influence by the region's Bambara tradition, a sound ripe with balafons or ngonis and similar to American blues, Mr. Traoré joined a folk group at the age of 16 in Ségou, before moving on to the capital city of Bamako.
Honing his musical chops in the capital with a couple of bands, Mr. Traoré soon joined Zan Diabaté's band Djata Band, becoming the popular group's Bambara singer. After a successful run with Djata Band in the 1980s, Mr. Traoré struck out on his pursuit of a solo career in the 1990s, often performing at weddings and hitting the bar scene. Adept at the kora, djembé, ngoni and the electric guitar, Mr. Traoré stepped up his unique sound and developed his own version of the Bambara blues.
His first recording Bambara Blues was released in 1991 and was followed up by other recordings that include Bamako, Segou, Barra Coura, The Lobi Traoré Group, Mali Blue and I Yougoba. A touring veteran and regular in France's music festival scene, Mr. Traoré worked with the likes of Bonnie Raitt, Vincent Bucher, Joep Pelt and Chris Eckman over the course of his career, creating a guitar style laced with blues and rock 'n roll but always rooted in the Bambara folklore and traditions of Mali.
Often writing songs centered around humor or a moral message, Mr. Traoré continued recording, as well as being a welcomed, popular fixture in the bar and club scene in Bamako, sharing his music with regulars and becoming a popular figure for the working class of Mali. Fans might soon have the opportunity to enjoy more of two of Mr. Traoré's yet unreleased recordings in the coming year.
Mr. Traoré is survived by a wife and four children. Funeral arrangements have yet to be released.
Author:
TJ Nelson
TJ Nelson is a regular CD reviewer and editor at World Music Central. She is also a fiction writer. Check out her latest book, Chasing Athena's Shadow.
Set in Pineboro, North Carolina, Chasing Athena's Shadow follows the adventures of Grace, an adult literacy teacher, as she seeks to solve a long forgotten family mystery. Her charmingly dysfunctional family is of little help in her quest. Along with her best friends, an attractive Mexican teacher and an amiable gay chef, Grace must find the one fading memory that holds the key to why Grace's great-grandmother, Athena, shot her husband on the courthouse steps in 1931.
Traversing the line between the Old South and New South, Grace will have to dig into the past to uncover Athena's true crime.