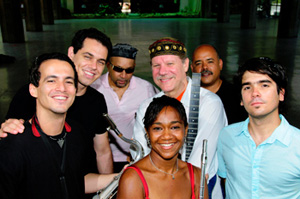 The Pacific Jazz Institute at Dimitriou's Jazz Alley will present the Afro Cuban band Mezcla for two nights, June 1 – 2, 2010. The group is touring in support of their new recording I'll See You in Cuba.
Band members are Pablo "Mezcla" Menéndez (guitar/vocals), Octavio Rodriguez (percussion/vocals), Mayquel Gonzalez (trumpet), Magela Herrera (flute/piano/vocals), Orlando Sanchez (tenor sax), Eduardo Barruetabena (trap drums) and José Hermida (bass). Set times Tuesday and Wednesday at 7:30pm. Doors open Tuesday at 6:00pm and Wednesday at 5:30pm.
Mezcla has been a part of the soundtrack of the Cuban music scene for the past twenty-five years. They perform frequently at Havana's premier jazz club La Zorra y el Cuervo and the Havana Jazz Festival (Jazz Plaza). The ensemble has constantly reinvented itself, highlighting its members' musical strengths and interests. A multigenerational ensemble, Mezcla brings together several veteran masters with some the best of young jazz players on the scene today, united in their desire to play great music, mindful of their roots, ever looking forward and always joyful. They have a number of recordings under their belt including ¡Akimba! (2003 Khaeon) and their latest I'll See You in Cuba (2010 ZOHO).
Born in Oakland, California, Pablo "Mezcla" Menéndez is the son of blues and jazz singer Barbara Dane. Living in Cuba since 1966, he has been an indelible part of many Cuban music scenes over the past decades: the Nueva Trova movement (GES with Silvio Rodríguez and Pablo Milanés), the jazz world (Sonido Contemporáneo at the old Club Rio with Gonzalo Rubalcaba and others), progressive rock and Afro-rock group Síntesis (with Carlos and Ele Alfonso) and more. On the basis of this rich experience, Pablo founded Mezcla in 1985 and has led Mezcla to the present day on countless gigs in Cuba, many international tours to Europe, Latin America and the U.S., and on several critically acclaimed recordings.
Pablo has also released a solo project on Zoho Music entitled Havana Blues Mambo and has led a US-based Cuban All Star ensemble for performances at venues such as Regatta Bar in Boston and Yoshi's in Oakland, California. In January of 2009 he was invited to share the bill and perform with Larry Coryell and John Stowell at the Jazz Guitar Summit in Olympia, Washington.
The Pacific Jazz Institute at Dimitriou's Jazz Alley
2033 6th Avenue, Seattle, WA, 98121
COST: $24.50
Buy the Mezcla albums: I'll See You in Cuba, Cantos, ¡Akimba!, Fronteras de Sueño
Author:
World Music Central News Department
World music news from the editors at World Music Central