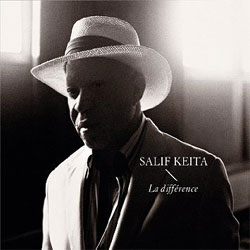 Salif Keita
La Différence (Emarcy Records, 2010)
Listening to Salif Keita's plumy vocals on his latest recording La Différence there can be no doubt that his is the very soul of African music. La Différence, set for release on June 8th on the Emarcy Records label, is a warm, welcomed addition to this summer's musical releases, cementing Salif Keita into one of world music's true masters. Mr. Keita's familiar poignant vocals suffuse this latest CD, standing center stage in the last of a trilogy of acoustic recordings that include 2002's Moffou and 2006's M'Bemba, much of it recorded in Mr. Keita's own Bamako studio.
Revisited and reworked track linger amidst new compositions, but don't be fooled by the lacy kora edged tracks or the bright lines of female backup singers because La Différence is packed with the force of Mr. Keita's stand on his own albinism and the plight of albinos everywhere in the CD's title track, as well as his strong opinions on the ecological problems facing Africa on "Ekolo d'Amour" and "San Ka Na."
La Différence also drinks deeply from the world map of music with guest additions of trumpeter Ibrahim Maalouf, guitarist Bill Frisell and guitarist Seb Martel. Bassists Jannick Top and Guy N'Sangue, cellist Vincent Segal, guitarists Kante Manfila and Ousmane Kouyate, percussionist Mamadou Kone and drummer Patrice Renson fill out La Différence's incandescent, intimate sound.
It would be impossible not to be caught up in the utter charm of La Différence's charm with the rolling rhythms of "San Ka Na," or the delicate beauty of the reworked "Seydou," or the richly intricate "Gaffou." The electrically charged "Djélé" brims over with African lutes, an accordion, a piano, strings and an infectious charm. "Samigna" and "Papa" close out La Différence with equal parts of dignity and Mr. Keita's signature vocals that effortlessly achieve a kind of poetical phrasing, wringing out the emotional core of the track.
La Différence is stunning, coming across as something gracefully simple but that is anything but simple. It is soulfully stylish, a sumptuous feast world music fans can sink their teeth into.
Buy the album:
Author:
TJ Nelson
TJ Nelson is a regular CD reviewer and editor at World Music Central. She is also a fiction writer. Check out her latest book, Chasing Athena's Shadow.
Set in Pineboro, North Carolina, Chasing Athena's Shadow follows the adventures of Grace, an adult literacy teacher, as she seeks to solve a long forgotten family mystery. Her charmingly dysfunctional family is of little help in her quest. Along with her best friends, an attractive Mexican teacher and an amiable gay chef, Grace must find the one fading memory that holds the key to why Grace's great-grandmother, Athena, shot her husband on the courthouse steps in 1931.
Traversing the line between the Old South and New South, Grace will have to dig into the past to uncover Athena's true crime.