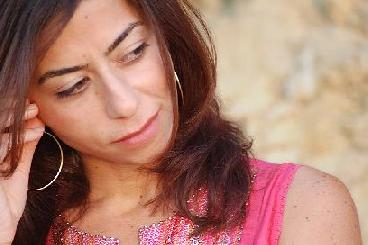 Alwan for the Arts will present Lebanese singer-songwriter Elizabeth Ayoub (vocals and guitar ) in performance on May 22, 2010. The event will be held at Alwan for the Arts at 16 Beaver Street, 4th Floor, New York, NY 10004.
With a fresh, coming-of-age sensitivity, Elizabeth Ayoub graces the stage by blending the traditional with the contemporary, the East with the West. The youngest of seven siblings, her Lebanese immigrant parents fled to Venezuela before the civil war, in search of a promising future.
It was in Venezuela that Elizabeth was thrust into an environment where three different languages were freely spoken and where her musical influences ranged from Koranic verse and the famed Lebanese diva Fairouz, to Simon & Garfunkel and Barbra Streisand.
These influences span across decades and cultures, and enrich both her music and lyrics with heartfelt and haunting melodies and rhythms. From the yearning that springs from a traditional Arabic song, to that of a country-blues ballad, and an Arab-infused Cuban son, Elizabeth Ayoub transports the listener sweetly to and fro, through a musical journey.
Tickets are $20 and are available online at www.alwanforthearts.org or at the door. Student tickets may be purchased for $15 at the door only. Doors open at 8:30 pm both nights; performances will begin at 9:00 pm.
Author:
World Music Central News Department
World music news from the editors at World Music Central