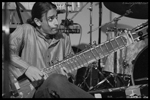 The KarmetiK Machine Orchestra, a group that mixes traditional Indian music with cutting edge engineering and high tech effects, are developing digitally modified instruments and original compositions for an extravaganza at California Institute of the Arts (CalArts) on May 13–and throughout the coming summer will be unveiling amazing new instruments.
Ajay Kapur, a technologist with training in classical Indian music, is the Machine Orchestra's musical director. His work revolves around one question: "how do you make a computer improvise with a human?" Using the rules set forth by Indian classical tradition, he builds new interfaces–modifying such instruments as the tabla, dholak and sitar with added microchips and sensor systems. He also invents completely new robotic musical instruments which can be programmed to to perform along with human musicians.
CalArts is an acclaimed Los Angeles-area institution offering undergraduate and graduate programs in the visual and performing arts. The Machine Orchestra is a project of the Music Technology: Interaction, Intelligence and Design (IID) program at the Herb Alpert School of Music at CalArts. Each robot and interface is designed, built, and programmed by either students in the program—or their or mentors who, along with Kapur, include world-famous technology innovators Trimpin, Perry Cook, and Curtis Bahn.
Employing Kapur's background in musical robotics and sensor systems and CalArts School of Theater faculty member Michael Darling's years of experience in technical theater design and mechanical engineering, the Machine Orchestra is taking the electronic ensemble into uncharted territories. In Kapur and Darling's class "Robotic Design for Music and Media," students turn junkyard scrap parts into imaginative new instruments. Each student has been involved in building their own software, constructing their own digital instruments and helping compose and perform new pieces for the orchestra.
CalArts is the perfect setting in which to mix high technology and global music. Along with its renown Music Technology program—it is the home of two of the great contemporary masters of Indian music, Swapan Chaudhuri and Aashish Khan, with whom Kapur continues his classical practice. In the future, the varied and vibrant world music communities at CalArts will offer new directions and cultures for computer-assisted compositions ranging from Bali and Australia to Nigeria and beyond.
More information:
Official KarmetiK Website: http://www.karmetik.com
Machine Orchestra, Video Preview:
Author:
World Music Central News Department
World music news from the editors at World Music Central