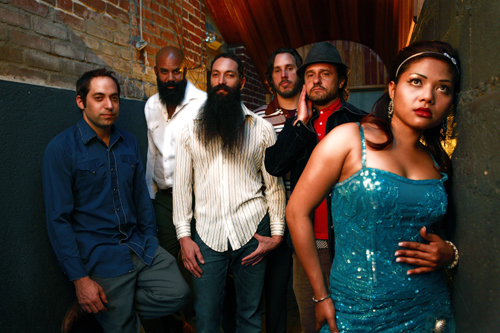 The Embassy of the United States of America in Cambodia announced that they will sponsor a free live show by Cambodian rock band Dengue Fever in Phnom Penh, the evening of Thursday May 13, 2010 at the Cambodian Vietnamese Friendship Park. The event is part of upcoming celebrations by the U.S. Embassy to commemorate the 60th Anniversary of diplomatic relations between the United States and Cambodia.
Dengue Fever also confirmed additional tour dates in South East Asia including two new dates in Ho Chi Mihn City (Vietnam) in addition to previously announced dates in Scandinavia, Germany, Turkey, Vietnam and China. The band also will perform at a benefit performance in conjunction with Cambodian Living Arts (CLA), a screening of the bands documentary Sleepwalking Through the Mekong and a panel discussion with emerging Khmer rock bands at the Overseas Press Club of Cambodia while in Cambodia. Sleepwalking depicts Dengue Fever's first trip to Cambodia in 2006 as the first western band to perform Khmer Rock, Cambodia's lost music, since the fall of the Khmer Rouge.
"The US Embassy is thrilled to be able to host Dengue Fever for a free concert in Phnom Penh on May 13, 2010, as part of our celebration of the 60th anniversary of diplomatic relations between Cambodia and the United States," said Carol A. Rodley, U.S. Ambassador to Cambodia. "I cannot think of a better way to kick of this celebration than to have an acclaimed American band performing music influenced by some of the great Cambodian artists of the 1960s. Sinn Sisamouth, Ros Serey Sothea, Pan Ron and many other artists perished more than 30 years ago under the Khmer Rouge, but their musical legacy lives on to inspire and delight new generations of listeners, not just in Cambodia but around the world."
Dengue Fever is currently in the process of writing, demoing and fleshing out music for the band's fourth full-length album of new material to be released in 2011. The band is set to launch a new online store at the end of April.
Dengue Fever is Cambodian songstress Chhom Nimol, Zac Holtzman (guitar/vocals), Ethan Holtzman (keyboards), Senon Williams (bass), Paul Smith (drums) and David Ralicke (horns). The band's music has been featured in a number of film and television shows including City of Ghosts, Must Love Dogs, Broken Flowers, True Blood and twice on Showtime's hit series, Weeds. TThey have released three albums, Dengue Fever, Escape from Dragon House, Venus on Earth and released their DVD/CD soundtrack to the documentary Sleepwalking Through the Mekong on April 14, 2009. They recently released Dengue Fever Presents: Electric Cambodia, a compilation of lost Cambodian classics from the 1960's and 1970's. They are based in Los Angeles.
Confirmed tour dates are:
5/01 – Bergenfest, Bergen NORWAY
5/03 – Berns, Stockholm, SWEDEN
5/04 – Atomic Cafe, Munich, GERMANY
5/05 – IKSV Salon, Istanbul, TURKEY
5/08 – Club for Art & Music Appreciation (Club Cama), Hanoi, VIETNAM
5/09 – Boathouse, Ho Chi Mihn City, VIETNAM
5/10 – Meta House, Phnom Penh CAMBODIA (Screening & Q&A of "Sleepwalking Through The Mekong" documentary)
5/11 – TBD, Phnom Penh, CAMBODIA (Benefit show for Cambodian Living Arts / CLA)
5/13 – Cambodian Vietnamese Friendship Park, Phnom Penh, CAMBODIA (free concert)
5/14 – Star Wars, Ho Chi Mihn City, VIETNAM
5/15 – Grappas Cellar, Hong Kong, CHINA
5/21 – Empty Bottle, Chicago, IL
5/22 – Baker Center, Ohio University, Athens, OH
5/29 – Detroit Bar, Costa Mesa, CA
9/9-12 – Bestival, Isle of Wight, ENGLAND
9/10-12 – End of the Road Festival, Dorset, ENGLAND
Author:
World Music Central News Department
World music news from the editors at World Music Central