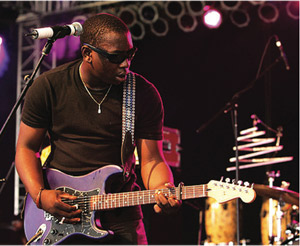 Vieux Farka Toure (Mali, West Africa) and Locos Por Juana (Miami, USA) are set to perform Saturday, April 24th, 7:00PM sharp in Miami Beach. Vieux Farka Toure: The son of the revered Malian guitarist Ali Farka Toure, Vieux has stepped out from his late father's massive shadow.
Ali Farka Toure proved – in case anyone ever doubted it – that the soul of the blues could be found in West Africa. Vieux is turning heads with a more radical idea: that those western Saharan roots can be heard in everything from the jam band scene to Jamaican dub. Vieux Farka Toure makes his Florida debut with this concert. His recordings include: Vieux Farka Touré, Vieux Farka Toure Remixed: UFOs Over Bamako, and Fondo.
Locos Por Juana have been traveling the world since their 2009 Grammy Nomination for their critically acclaimed album, La Verdad, headlining festivals and events throughout the US and Europe. BBC America named them the Best New Latin Rock Band, Premio lo Nuestro nominated them for Best Urban Band and they struck gold in Premios Paoli Puerto Rico for Best Record. The band was featured on Los Angeles' taste-making radio station KCRW.
Jumping up the Billboard Charts they electrify audiences with their unique mashup of AfroLatino rhythms, heavy on the cumbia, with funk, dub and reggae. Locos Por Juana have released several album, including La Verdad and Musica Pa'L Pueblo. Ihey will release a new EP, Evolucion, in May of 2010.
North Beach Bandshell, 7275 Collins Avenue, Miami Beach 33141
Tickets $20 advance on sale through Groovetickets.com- or by phone at 305-672-5202 or area outlets (BASE, Sweat Records, Via Brazil Miami Beach, Radio-Active Records Fort Lauderdale)
Author:
World Music Central News Department
World music news from the editors at World Music Central