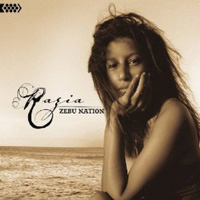 Razia
Zebu Nation (Cumbancha CMB CD 16, 2010)
It would be a dirty shame to see an environment and ecosystem as unique as that of Madagascar go to waste because of climate change or agricultural excesses. Given the power of music to raise awareness of such things, singer Razia Said harnesses it in rich Malagasy traditional style on Zebu Nation. So while you shouldn't fail to recognize the intent behind the music here (start by reading the liner notes and then take a look at Said's web site), the instantaneous warmth of the music itself states the case eloquently.
The drums/bass/percussion core of the songs is sweetened largely by guitar and accordion trading melodic leading roles, punctuating lyrics that speak of Madagascar's imperiled natural wonders and resilient denizens. Some modern techno sheen is added to the sitar-adorned "Slash and Burn," the track that most directly addresses the theme of the disc (and the only one sung in English), but most of the accompaniment is solidly unfussy support for Razia's voice, which has traces of Arabic intonation and always connects with an emphasis on the subtle rather than the dramatic.
Even a stomper of a tune like "Salamalama Aby" doesn't overplay its hand, nor does the closing "Mifohaza," despite a dancefloor tempo and jarring drum fills, seem simply like an attempt to end the album on a rousing note. Rhythmically alive though this very fine CD is, the reasons for its creation account for much of the resulting excellence as well.
Zebu Nation stands among the best of what's come out of Madagascar musically in recent years.
Buy the album:
Author:
Tom Orr
Tom Orr is a California-based writer whose talent and mental stability are of an equally questionable nature. His hobbies include ignoring trends, striking dramatic poses in front of his ever-tolerant wife and watching helplessly as his kids surpass him in all desirable traits.