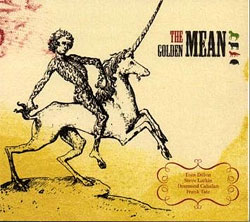 Kila's piper, Eoin Dillon has recorded a new album titled, The Golden Mean, which was presented live this week in Dublin. The Golden Mean contains all self-penned tunes, covering the musical spectrum, from the dramatic fast paced reels of Babaganoush and Boy Raycer, to the rich slow gentleness of the laments.
The Golden Mean is the second recording from Eoin Dillon. He is rejoined by his Third Twin companions: Steve Larkin, Desmond Cahalan and Fank Tate and introduces guests Martin Brunsden, Kevin Murphy and Graham Watson.
This album shows again how tunes without lyrics can tell a thousand stories allowing the imagination to wander. "And fox ate Nandys red shoe" chronicles the daring exploits of natures battle with modern city life. "Barakaldo" recalls the wanderlust in us all. "Lament for Fr Pat Noise" recounts the tragic demise of a fictional Dublin character while "The yoghurt weavers lament" pays homage to a long lost art form.
Buy The Golden Mean. Other recordings available: The Third Twin.
Author:
World Music Central News Department
World music news from the editors at World Music Central