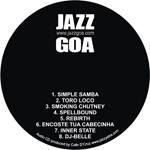 Jazz Goa is all about promoting Goa's immense music talent. The first album to roll out of Jazz Goa's state of the art recording studio in Sangolda, features some of Goa's most accomplished artistes that includes singers Chrystal Farrell, Zezinho Fernandes, Ramona D'Mello and Francis Leo Vaz, guitarists Elvis Lobo and Gerard Machado; keyboard players Tony Dias, Darryl Rodrigues and Xavier Peres; bass player Colin D'Cruz; drummer Lester Godinho; and percussionist Carlos Gonsalves.
The album titled 'Jazz Goa' features eight original tracks that span a whole spectrum of music genres from jazz, rock and pop to funk, fusion and Latin sounds from Goa.
Jazz Goa is formed by a group of musicians and music lovers to promote jazz in and out of Goa. The club's principal aim is to improve the lot and provide an organised platform for local as well as visiting international jazz musicians.
The album is available free of cost at jazzgoa.com