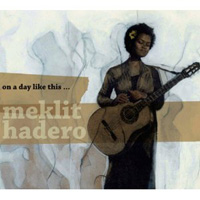 Meklit Hadero
On A Day Like This… (Porto Franco Records PFR 015, 2010)
Close your eyes as you listen to this debut CD by Ethiopian-born Meklit Hadero and it's easy to imagine you're in some small venue in San Francisco (where Hadero honed her artistry), experiencing an intimate performance by an up-and-coming young singer/songwriter whose approach is sincere and whose talent is undeniable.
Her bio makes comparisons between her sound and that of Joni Mitchell, Nina Simone and Nora Jones and while there undeniable similarities (I hear shades of Joan Armatrading as well), Hadero sets herself apart by factoring in a bit of the musical traditions of her homeland and having a knack for sometimes taking on a darker tone that tempers the overall sunnyness of On a Day Like This… without killing the buzz. "Walk Up" (inspired by an interactive sculpture exhibit) starts the album on a smilingly surreal note, and its mildly quirky feel carries on through original compositions "Float and Fall," "Leaving Soon," and "You and the Rain."
A certain brooding restlessness sets in with a cover of Simone's "Feeling Good" (not a simple feel-good song by any means) but the disc takes varied turns from that point on, including its liveliest piece ("Soleil Soleil") and its most melancholy ("Under"). Sparse jazz structures and acoustic instruments comprise the better part of the accompaniment, leaving the necessary space for Hadero to make her impressive mark vocally. Not an earth-shattering release, but a very pleasing one that comes from the heart and reaches the same.
Buy the album:
Author:
Tom Orr
Tom Orr is a California-based writer whose talent and mental stability are of an equally questionable nature. His hobbies include ignoring trends, striking dramatic poses in front of his ever-tolerant wife and watching helplessly as his kids surpass him in all desirable traits.