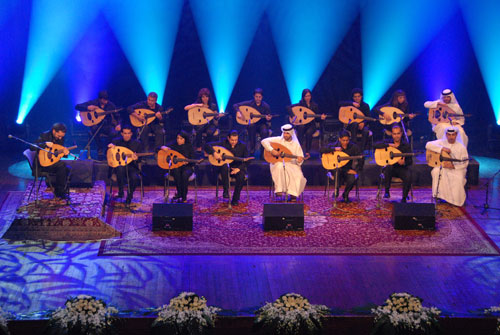 Bait Al Oud Al Arabi, the music teaching initiative that is founded and sponsored by the Abu Dhabi Authority for Culture and Heritage (ADACH), held last Friday and Saturday two distinctive shows in the Arab World Institute in Paris amid a notable presence of Arab and foreign audience.
The audience gave participants a standing ovation and enthusiastically interacted with the wonderful pieces played by Bait Al Oud students and teachers (four lute and two qanun players) under the supervision of the renowned artist Nassir Shamma.
After playing a stunning solo lute performance by Shamma, every participant played a solo piece. All participants are students of Bait Al Oud. They included the UAE artist Ali Obeid who is the first to graduate from this specialized institution, Iyad al-Khalidi who celebrates his graduation next Saturday at Bait Al Oud in Abu Dhabi, Master Ahmed Shamma and Master Bassam Abdul Sattar also took part in the event.
The surprise of the concerts was the young Ahmed Sheikh, who played qanun to the amazement of the audience. Sheikh is one of the students of Bait Al Oud in Abu Dhabi.
The students and teachers presented on behalf of ADACH and the UAE many outstanding pieces which gained the admiration of the audience, including "The Land of Israa", "On the Wing of a Butterfly" and "Once in Andalucía".
Abdullah al Ameri, Director of Culture and Arts Department in ADACH, said that "the establishment of the Bait Al Oud Al Arabi sets a new creative horizon, adding a quality to the multiple projects adopted and supported by ADACH."
Ameri praised the efforts of Bait Al Oud officials and masters, in particular the celebrated artist Shamma.
"Today, we are proud of Bait Al Oud achievements after two years of its creation and we are now edging closer to achieving part of our aspirations through the building of a generation of musicians who are able to deal with the lute, read and professionally play various musical compositions with this instrument," he added.
Shamma, Director of Bait Al Oud in Abu Dhabi, expressed his great joy over the institution's first concert outside the UAE and the priceless welcome in Paris. He stressed that the graduates and students of Bait Al Oud have become qualified to participate in major artistic and musical events, thanking ADACH for its excellent efforts in this regard.
Author:
World Music Central News Department
World music news from the editors at World Music Central