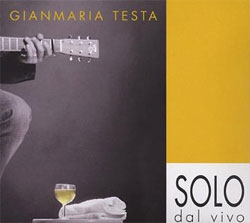 Gianmaria Testa
Solo dal vivo (Le Chant du Monde, 2009)
In a gruff voice not unlike Tom Waits or Lo'Jo's Denis Pèan, Italian singer-songwriter Gianmaria Testa sings at time stunning melodies over his folksy acoustic guitar. A live 2008 performance in Rome was captured on the disc "Solo dal vivo" (2009) that features 20 songs flowing out to an appreciative audience. But what you might not know about Testa is that despite his musical success in Europe, especially France and Italy, he kept his day job working as a station manager at a train station in Cuneo, Italy. As far as working class musicians, he's the real deal.
I don't know Italian and only one of the songs on the album has been translated into English, but I imagine that Testa possesses a poetic gift similar to Denis Pèan and Tom Waits mentioned earlier. I'm guessing that he sings about working class people, but I don't actually know. I know that Testa began writing songs at the age of 13, was discovered in 1994 by a French music producer Nicole Courtois and he released his debut album, "Montgolfières" in France. Finally in 1997, he received recognition in Italy and in 1999 he embarked on his first European tour. He has released several albums on the French label, Le Chant du Monde and his CD, "Solo dal vivo" and Harmonia Mundi is distributing the CD in the U.S.
Testa hails from Piedmont, where a strong folk music community thrives. I don't find any folkloric elements in the singer-songwriter's repertoire, even if it carries the fragrance of the troubadour tradition (poet/songwriter/singer accompanied by a lute). Lyrics for Like airplanes in the sky have been included in the liner notes and if these lyrics reflect Testa's poetic gift then I'd like to see more English translations.
As someone who has heard my share of gruff vocals, (Tom Waits, Bob Dylan and Lo'Jo for starters), it took no time at all for me to acclimatize to Testa's sandpaper tinged vocals. He carefully shapes the emotions of his songs and even offers some sweeping melodies such as in "La Nave," "Seminatori di grano," and the second track (with a long name) however, this would be the exception since the singer limits himself to only a handful of notes with most of the songs.
Despite the omission of lyrics in English and the simple arrangement of guitar and voice, (I was once a singer-songwriter myself), "Solo dal vivo" has grown on me. And each time I listen to it the experience feels richer than the last. The gentle lilting guitar, the signature voice and the audience response resonate long after the CD has stopped spinning in the player.
Buy the album:
In North America: Solo dal vivo. Other recordings available: Montgolfières, Extra-Muros, Lampo, La Valse d'Un Jour, Altre Latitudini, Da Questa Parte del Mare,
In Europe: Solo dal Vivo. Other recordings available: Montgolfières, La Valse D'un Jour, Extra Muros, Da Questa Parte Del Mare, Altre Latitudini
Author:
PatriciaHerlevi
Patricia Herlevi is a former music journalist turned music researcher. She is especially interested in raising music consciousness. She is looking for an agent and publisher for her book Whole Music (Soul Food for the Mind Body Spirit). She founded and hosts the blog
The Whole Music Experience and has contributed to World Music Central since 2003.